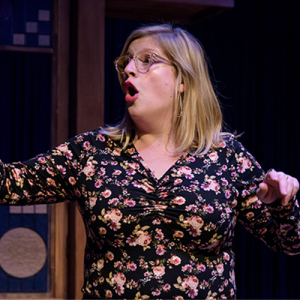 Improviser and ASL Interpreter Erin Murray: "I want to respect the deaf culture by trying to adapt what I've learned doing improv"
Mistakes as gifts: How WIT's administrative hiccup yielded unexpected opportunities
Get in the "Teen Spirit": Contribute to WIT's silent auction
There's nothing like experiencing improv for the first time. Seeing something that has never happened before and will never happen again is such an exciting and new performance experience. But like many forms of theater, improv is traditionally inaccessible for some audiences. The more people who can witness and participate in improv, the better the experience and shows become.
Madeline member Erin Murray wants to make this possible and has begun interpreting shows in ASL for deaf and hard of hearing audiences. She has also led her first ASL improv workshop (and there's another one scheduled for April 27). In order to understand the intricacies of improv and ASL, we talked to Erin about her experience.
How did you get involved in improv?
I was a theater kid in high school but was never much into the improv games; I could always be found with the lighting crew. Then as I attended McDaniel College, I was invited to audition for the short form team at my school, Dangersauce. I got on and was on it for three and a half years and never looked back! We dabbled in some interview longform but at the mention of a Harold, we grimaced at the need for structure and whined to play more "Party Quirks." I took my first class at WIT in winter of 2015 and took a few breaks, but I finished the curriculum and got onto the Harold team, Diviglio, in fall of 2016. I was on Diviglio for one year, Tiovivo for another year, and I am now on Madeline. I was also apart of Improv Actually and In Lieu of Flowers. I'm also on indie teams The Lodge, Cruz Control, and Hey! Listen! And when my duo partner, Sarah Houghton, and I get together, we perform as Dream Spooners.
When did you start studying ASL, and what made you want to learn it?
In college I started out as a theater major and thought sign language would be a really interesting pairing with theater as they are both so expressive, and I thought learning to bridge the gap between deaf and hearing people using theater and ASL would be an cool path. As I continued my studies, I switched to a psychology major but never dropped ASL. I started studying in 2011 and am still very much learning! As with any language, it is organic and changes when needed, adding or modifying signs that the deaf community agrees upon. I never knew any deaf people growing up, but I was simply fascinated as I learned McDaniel College had one of the best ASL programs since they were so closely associated with Gallaudet University here in D.C.
How did the workshop go? What did you learn from the first workshop?
The workshop was great! I thought it was really successful. We had seven participants and that was a great starting number. Everyone seemed really excited, we had a few brand new to improv and some experienced in theater but a bit more apprehensive about improv which made for an eager group. I learned that those fluent in ASL are naturally expressive and have such a great instinct for physicality, object work, and emotional expression. So doing warm ups like "Sound and Motion" or "Pass the Gift" were so fun to play and watch because the students were naturally so expressive and comfortable using their body to build things upon stage. As a hearing person, I want to respect the deaf culture by trying to adapt what I've learned doing improv. 
What was your favorite part of the workshop?
I really loved when we did more grounded "Yes, and…" scenes, and each time their scene partner replied, they had to justify with, "I know that's important to you because…" They made some really fun discoveries and it became clear how to connect with their scene partner and learn what the other cares about and what motivates them. Because ASL is so expressive, I wanted to showcase exercises that used a lot of physicality, facial expression, and gestures, but I didn't want to miss the opportunity for raw scene work. I wanted them to get comfortable being a character and having a conversation on stage while making a meaningful connection even if it's a gold digger with a sugar daddy. We talked a lot after what made those scenes easy or hard, and I think they were surprised that scene work doesn't only have to embodying outlandish characters. Grounded doesn't mean boring.
Can you tell us more about how you had to adapt exercises for this audience?
I modified some of my favorite exercises like "Character Chant" for the group of deaf and hard of hearing players. Usually it's in a circle and someone steps in the middle to embody three different characters as the players on the outside mimic each one. That would cause an inability to see the person signing in the middle, so I had the players stand in a U-shape. It was a simple modification but I wanted to allow for the most visibility. When playing with hearing people, you can always rely on your ears to pick up things you didn't see. Using ASL, a visual language, it's important to keep everyone in the line of sight. I also modified "Zip Zap Zop," "Sound and Motion," and "Pass the Face" to be more organic, letting the players to expand on their initiation if they felt inspired. It's so easy for hearing people to use their voices to add to their initiation, even a simple noise can change and morph what's being passed. I wanted to encourage the players to add things organically to build off of — the same as in any scene: yes and!
What are your plans for future workshops?
The next workshop is scheduled for April 27. I really think the interest is there! Gallaudet University dabbles in improv, but for non-students I'd love to have more opportunities for deaf and hard of hearing people to learn and perform improv.
If you or someone you know is interested in signing up for Erin's next workshop in ASL, you can sign up today for the April 27 workshop at the Northeast Neighborhood Library. This workshop is exclusively in ASL with no spoken instruction.