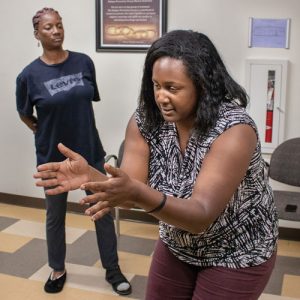 Krystal Ramseur: Women of Calvary see improv as "the best way to promote collaboration and team building"
The Types of People in Your Office Who Could Use WIT@Work
Nurse describes WIT's powerful work at Calvary Women's Services
WIT partners with Calvary Women's Services to provide improv workshops for their clients. Board member and Hellcat player Krystal Ramseur volunteers with this program to lead improv workshops for women experiencing homelessness. In her work, she sees how improv is lifting spirits and boosting confidence in her students. We asked Ramseur about her improv background and what makes her work at Calvary rewarding. 
When did you start improvising? What has made you stick with it?
I took my first improv class at WIT in September 2015. From the very beginning, I felt this pull to continue, and there was so much support from my teacher and other classmates. Since completing the WIT curriculum, I have felt so energized by performing. Not only has it helped to broaden my community in DC, but I think personally it's helped me to have a creative outlet and to express myself and release the stress of the day.
How did the opportunity come about to teach at Calvary? What made you take the opportunity?
Jonathan Murphy emailed about an opportunity to teach improv with Calvary. I had never heard of Calvary prior to this, but once I looked into the organization I knew this was an opportunity that I did not want to pass up. I worked at Academy of Hope Adult PCS for eight years. I started at Academy of Hope as a GED instructor working with adults on work and life skills. This experience has helped influence my classes at Calvary by integrating work and life competencies into our improv exercises.
Describe a typical session with the clients at Calvary. How do the women respond to the exercises? What do they like best?
Each class starts with a stretch and share. I first did this activity on week two as an improv warmup but it was clear to me immediately that every woman in the class responded to this activity. So now we do this to start each class. This is a time for the women to share whatever is on their minds or hearts and check in with themselves and their bodies. After we get warmed up, we move into our activities for the day. Each week has a theme or a set of skills we are working to build and focus on for that class. We will do activities in pairs simultaneously and then small group exercises where each group will perform the exercise in front of the others. Then we usually complete the class with one full group exercise. My goal is for each woman to have an opportunity to work one-on-one with someone and to work as a group so they have time to get to know one another better and build a team rapport.
How was your experience teaching at Calvary different from other improv workshops?
Working with the women at Calvary has differed from other improv workshops because we are focusing on more than just the art of improv but how these skills can be used in our daily lives. We had a class on interviewing for jobs where each woman played both the interviewee and the interviewer of a job they created on the spot. The interview was entirely improvised. And while this was a fun activity, it also helped with teaching confidence in how you respond to questions and thinking on the spot about what type of answers would best showcase your ability to do the job. And all of this was done without using a "stuffy" approach that is typical in mock interviews.
What's rewarding to you about this work? Can you share some highlights of your time at Calvary?
I love this work so much. These women inspire me. During our stretch and share, women have opened up and shared very personal issues that they are dealing with or have recently overcome and everyone in the class gives that person their full attention. After sharing these women have said it felt so good to have a place to just let that out. After one class one woman approached me and said that she hadn't laughed that hard in over a decade and that she really needed that laugh today because it had been a tough day. The Calvary program director shared that participants have discussed this class as being the best way to promote collaboration and team building. I was also told that during an unrelated field trip women were growing frustrated by having to wait in a long line, some started to complain, then one woman suggested doing some improv activities. The long wait turned into women doing improv on their own.
Can you see results from your work over several weeks? What has that looked like?
Yes. I have noticed women being more confident in their choices and feeling assured about their decisions. I've also seen women begin to let loose in scenes and be silly and laugh and scream, and afterwards, say how good it felt to let that out.
If you had to sum up your experience in three words, what would the words be?
Inspiring. Community. Creation.
Published:
October 16, 2019