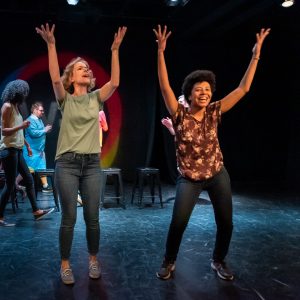 Join WIT For Free Broadway Sing-Along Night On April 10
Improv connects you to communities: David Richman
Forget the stress and be present: Yael Rothman
WIT will be hosting an online Broadway sing-along night on Saturday, April 10 at 8 PM EST, and all members of the community are invited to join. 
Performers Karyn Wilson and Katie Munn will provide the playlist and the song lyrics, you provide the Zoom drama as everyone sings—on mute—and dances to some of the greatest Broadway numbers of all time! Props and costumes encouraged but not required.
Attendees are encouraged to sign up in advance so facilitators can get a rough headcount (though of course drop-ins welcome). 
This event, part of WIT's new Second Saturday series, will consist of quick introductions so all participants can meet each other, followed by one straight hour of jamming out to Broadway's biggest bops.
Everyone will have the lyrics provided, and participants are welcome to go as over-the-top (props and costumes) or as chill (i.e. sitting down and eating dinner / listening with one's camera off) as they would like. 
Following the dance party, the Zoom room will remain open for socializing. 
Katie and Karyn shared with WIT what their fans have said*:
"If you attend one Broadway sing-along this month, it better be Karyn and Katie's" -Mandy Patinkin
"It's probably for the best that everyone is on mute, because if the talent in this virtual sing-along was ever fully unleashed, it would break Zoom. And you can trust me, I have six Tonys." -Audra McDonald
"The next best thing to Broadway" -Nick Jonas
*Ok fine, they haven't actually said this, but the hosts like to think that if they attended, they'd be huge fans!