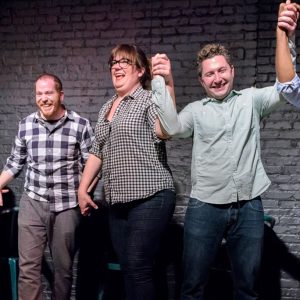 Improv for All workshops at Atlas Performing Arts Center include first-ever ASL-led workshop
EXTENDED TO SUNDAY -- FIST 2019 team sign-ups are live
WIT adds second Improv for All workshop for furloughed federal employees
Washington Improv Theater will host two free Improv for All workshops during its run at the Atlas Performing Arts Center, one of which will be WIT's first-ever workshop taught completely in American Sign Language!
Improv for All workshops are a high-fun, low-stress classes designed to show Washingtonians how improvisers create spontaneous, off-the-cuff theater. Our enthusiastic and friendly instructors work to make sure everyone is able to participate in a playful and trusting atmosphere.
WIT's first ASL-led Improv for All workshop will be taught exclusively in ASL by Erin Murray. Murray is as expressive on stage performing improv comedy as she is working as an American Sign Language interpreter, which she has done in the DC area for over four years. She has a background in ASL and Deaf Culture and is excited to converge her professional passions with the magic of improv. Erin is currently a member of the WIT company ensemble Madeline and several of WIT's special projects. This workshop will be taught exclusively in ASL with no spoken instruction.
The ASL-led workshop will be held on Sat. Jan. 26 at 4:30 PM.
The traditional Improv for All workshop will be held on Tuesday, Jan. 22 at 7pm and will be taught by Caroline Howe.
You don't need theater experience. You don't need to be a "funny person." Just come in ready to have a good time. Improv is an amazing way to help people connect with each other and have a reignite their sense of play.
If you can't make it for these workshops, you haven't missed your shot. We run these workshops every month at venues across the city. Check out our schedule and sign up!
You can also check out our three-week run of performances at Atlas running from Jan. 10-27.
Published:
January 9, 2019