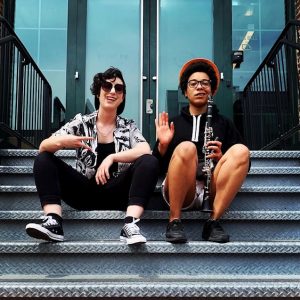 A discussion with the creators of A Rona Election
Join WIT for free online game night playing Codenames
WIT opens registration for summer in-person classes
Early in the pandemic, WIT premiered A Rona Election—a web series created by improvisers Isabelle Solomon (Harold team Semiprecious) and Simone Webster (WIT ensemble Hellcat). The series tracked a series of characters embodied by Solomon and Webster in the run-up to a COVID-era high school election. Now, the duo is back with a second season of the series set to debut June 5 at 8 PM with a live event.
Watch the video version this interview here.
The first season of A Rona Election premiered relatively early in the pandemic. How did you decide to work together and how did you arrive at the concept of a high school-themed web series?
Simone: The choice to work together really started with Turner Meeks and the power of sliding into one's DMs on Instagram. I remember seeing Isabelle perform with Turner a week after I did his IG show and I made sure to message her as a sign of solidarity and connecting with other performers who were doing improv in the pandemic. Some time later, Isbaelle messaged me about this brilliant idea, and I am so happy she shared it with me.
Isabelle: We were trying to think of something that would be really inconvenient and funny to have to transition to an online platform, and — I don't remember exactly how we landed on a high school student body election, but it felt like the goofiest thing that could happen while being far enough removed from the pandemic situation.
How did you go about creating the characters in A Rona Election? What do you enjoy about playing them?
Isabelle: We really thought about high school tropes — the weirdos we knew in high school and who we were in high school. Deborah is 100% a real person named Deborah who was actually the PTA president and tried to get all "magic" books banned from my school because she didn't want her kids to go to Hell. It's fun for me to imagine what she's like in her spare time and just get silly with it. Brent has the misplaced confidence I wish I had in high school, and it's fun to pretend like that's who you are as a person when you're not. Heather is the amalgamation and exaggerated version of my most toxic traits, minus the rich part, so playing her is cathartic. 
Simone: Thinking about awkward kids in high school, understanding what tropes exist, and having a clear plan of who we wanted to see in the world we were building. I enjoy these characters greatly, there is something uniquely fun about each of our babies. With Madison, I get to be very confident and wear a purple wig (both are new for me), with Darla, I am able to channel the feelings I had as a teacher, and as Mort, I really can just be myself but as a funny kid. 
How has the series evolved from the first to the second season?
Simone: The second season is far more musical and experimental with our structure. We really played with what we could do with our format, whether that be camera angles, adding musical introductions, montages, and making a music video to express character deals. We also built upon season two by expanding the world and inviting more improvisers to play. 
Isabelle: It's a lot of "if this is true, what else is true" from the first season, which was made easier by having new people and new characters to build out the weird worlds of our weird characters. The first season was more focused on us being silly, and the second season focused more on us deep-diving into the characters' relationships. 
Both of you have a lot of live improv experience. How has that experience helped you in creating a filmed web series?
Isabelle: Most of the series is improvised — what helps coming from live performance is not getting caught up in trying to be funny, especially with the difficulty of filming in different locations and basing your scene chemistry on a Zoom call. The fact that Simone and I have worked together on stage before for [the Capital Fringe show] The Heist and understand each other's play styles helped a lot as well. 
Simone: Since there is only so much you can do in an online format, having an important character relationship that people are invested in was really key for us. Also, thinking of improv formats that could propel the plot was important to keep in mind. The first season specifically follows a dusty-like format and that adapted well to the virtual format. 
Staying creative during the pandemic isn't easy for everyone. Has working on A Rona Election helped you over the past year?
Simone: During the pandemic, some people got married, some people got pregnant, some moved away—we made a web series and I'm very happy we did that! The web series has kept me sane and been a place of grounding and creativity in a really tumultuous year. Not only did I get to work with Isabelle, who is an incredible partner, it was so refreshing to have something that we could see grow in the course of a few months. We were doing improv in a way that felt right for us, and we were making something that felt grounded in a time that was anything but.
Isabelle: Online improv has been really difficult, and so doing something improvised that feels more tangible was really nice. Also Simone is one of the best improvisers in DC (fight me), so getting to work with her one-on-one and create an entire show was an awesome experience. 
Tune into the live premiere of A Rona Election Season Two on Saturday, June 5 at 8 PM. Follow the show on Instagram.