Take cover! Washington Improv Theater debuts
five new shows in WIT Attacks! 
(Washington, DC) Like Godzilla stomping on Tokyo, each of WIT's company ensembles come roaring onto stage during WIT Attacks! Following up on the success of last summer's experimental performance series BINGE, the ensembles have devised new improv formats using inspirations as diverse as the podcast This American Life and Alfred Hitchcock's film Rear Window.
"Our performers are always amazing and entertaining, but WIT Attacks! really allows them to up the ante in terms of creativity," said Mark Chalfant, WIT's artistic/executive director. "I'm beyond excited to see the ways our ensembles are doing things they've never done and challenging themselves to push the boundaries of what people can expect from an improv show. If you've seen improv shows before—even if you've seen a lot of them—none of them was anything like what you'll see in WIT Attacks!"
WIT Attacks' original shows include:
Commonwealth presents That American Life: Part improvised podcast, part nod to the Christopher Guest movie Waiting for Guffman, Commonwealth records the latest episode of their soon-to-be-world-famous podcast examining life as it was meant to be examined—through breathy, pedantic and unironic audio storytelling. Ira Glass is invited to every performance. He hasn't RSVP'ed yet but the devoted players of Commonwealth just know he will.
Nox! presents Hard Nox! Life: Experiencing some hard times? Let Nox! help you through the rough patches. Nox! explores Kubler-Ross's five stages of grief (denial, anger, bargaining, depression and acceptance) through varying forms of therapy and scenes inspired by therapy. It's like HBO's In Treatment with more laughs and fewer scripts.
King Bee presents Side Window (pictured at right): Do you know what your neighbors are up to right now? In Side Window, WIT ensemble King Bee uses the power of improv to discover what their neighbors are up to. Just like Jimmy Stewart and Grace Kelly discovered in Hitchcock's Rear Window, first impressions may be deceiving.
iMusical presents a musical monoscene: WIT's longest-running ensemble presents a full-length musical in real time. The action is constrained in a single location, but the possibilities are limitless.
Season Six presents Welcome to Seasonsixville: Partially inspired by the mysterious, supernatural podcast Welcome to Night Vale, Season Six creates a fictional town on the spot. The serialized show will introduce new characters every week.
More dynamic the the 10,000 Foot Woman and more powerful than Mothra (and, frankly, a lot funnier than both of them), WIT Attacks also features performances from D.C.'s top independent troupes including Ugh (who will reprise the Real Housewives of Improv) and Going to the Movies Alone (winners of WIT's 2015 Fighting Improv Smackdown Tournament).
For a full schedule and a ticket link, visit https://witdc.org/shows/wit-attacks/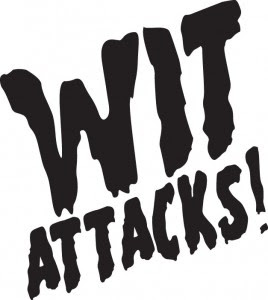 PHOTOS :
Download high-resolution JPG files at the links below:

King Bee's Side Window (download here). Pictured are (from left) Elise Webb, Eva Lewis, Paul Hitlin.
Commonwealth's That American Life (download here). Pictured are (from left) Catherine Deadman, Stewart Walsh, Kate Symes, Justus Hammond, Jamie Lantinen, Caroline Pettit.
Nox!'s Hard Nox Life (download here). Pictured are (from left) Brianna Lux, John Heiser, Matt Winterhalter, Yuliya Malamud, and Chris Ulrich.

Please credit C. Stanley Photography
SCHEDULE/TICKETS
General admission tickets are $12 in advance ($15 at the door). Reserved seating in the front three rows is $30.
Contact Dan Miller (dan@witdc.org for group discounts)
LOCATION
Performances will take place at Source, located at 1835 14th St. NW.
SOCIAL MEDIA
Follow WIT and all its shows via:
www.facebook.com/washingtonimprovtheater
www.twitter.com/WITimprov (Hashtag: #WITattacks)
ABOUT WIT
For 16 years, Washington Improv Theater (WIT) has dedicated itself to unleashing the creative, collaborative power of improv in DC. WIT is DC's premiere arts organization showcasing and advancing the artform of improvisational theatre with over 200 artists, 30 instructors, 1,000 students, and 10,000 audience members engaging annually in performances and classes. WIT is a multi-tiered arts organization: a producing organization exploring and forwarding the craft of longform improv in challenging new directions; a presenting organization allowing improvisers from across the country to share their artistry with DC audiences; a community organization serving a rapidly growing family of improv artists. For our students, WIT is an artistic conservatory, a personal-development laboratory, a professional skill-building gymnasium, and a vital social outlet in a tightly "scripted" city. WIT is the place for improv in DC.
"The power of improv is one of listening, of supporting, of daring to explore your raw imagination. It is the power of being present, of empathy and camaraderie, of doing anything in your power to make your partner look good. In our world today these are revolutionary ideas. And yet, vital." – WIT Artistic/Executive Director Mark Chalfant