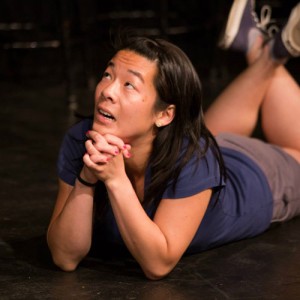 Nina Hsu
Washington Improv Theater
Elijah Sloan
Aaron Merrill
Nina Hsu hails from Philadelphia, PA. She signed up for a WIT class in 2014 to better manage her Type A tendencies. She still harbors those tendencies, but she has been delighted to discover so much more along the way.
Nina completed the WIT curriculum in the summer of 2015. She has also performed in Improvapalooza and with indie troupe Twisted Burns in Laugh Index Theatre's Summer Improv Medley.
A researcher by day, Nina studies memory and language. She can't tell you what you're thinking, but she can take a pretty picture of your brain.
Photo by Aimee Custis
Best Dance Move
The Grocery Cart
Favorite Historical Figure
Marie Curie
Nina is a firm believer that everyone should take an improv class.
Nina loves unlocking the creative potential in students and watching them discover it in themselves. The improv classroom provides a joyful, supportive environment for students to discover that they can take risks, find unexpected connections, work together, and have a blast along the way.
Nina completed the Washington Improv Theater curriculum in 2015. She is currently a member of WIT Harold Team Tiovivo, having previously played with WIT Harold Teams Wallawoo and Blot. She has also performed in Improvapalooza, FIST, and Seasonal Disorder. During the day, she is an #ActualLivingScientist.
Photo by Aimee Custis