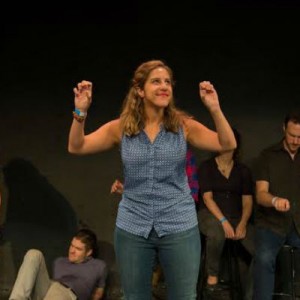 Jaci Pulice
Washington Improv Theater
Stewart Walsh
Caroline Pettit
Jaci Pulice hails from from Oceanside, NY. She began improvising in 2003 when she joined "Mission Improv-Able" during her freshman year at American University.
Jaci has taken the complete curriculum at Upright Citizen's Brigade Training Center and studied musical improv at Washington Improv Theater. She performed with the WIT Harold team Gone Baby Gone and can currently be found performing with the ensembles iMusical and Commonwealth. She created and directed of the Fall 2015 run of The October Issue, Washington Improv Theater's project for The Women's Voices Theatre Festival.
Other notable performances of Jaci's include: "Split Her Chin Open While Wearing Espadrilles Carrying a Tray of Pasta Fagiole in the 5th Grade" and "Living in The East Village With No Window In Her Bedroom." These are action and drama pieces respectively, locked away in the Disney vault of her heart. Jaci loves the stage but ultimately her favorite place is around a table eating pizza and drinking wine with good folk. Her long term goal is to become the woman described in the lyrics of Billy Joel's "She's Always a Woman to Me."
Photo by Darian Glover
Personal Heroes
My Parents, and Amy Poehler
Favorite Snack
Is pizza a snack? It can be right? If not, chips and salsa
Jaci made it her goal to start teaching improv when she was a student at Upright Citizen's Brigade Training Center.
When she started musical improv class at WIT in 2012, she knew she had found a great improv training program in D.C. that she wanted to be a part of.
Teaching is a highlight of Jaci's week. She loves seeing students develop their love for this art form, whether it be for performance, practice, or play. She pushes students to take the things that "live inside them" and bring them to the stage. She finds it extremely rewarding to help people grow their confidence and craft.
Jaci has been teaching at WIT since 2013. She is a current member of the WIT ensembles iMusical and Commonwealth. She is also the director of The October Issue, a project WIT will be producing in fall of 2015. She previously was a member of WIT Harold team Gone Baby Gone. Her first improv team consisted of her and her sisters in Oceanside, NY. Every now and then they have a reunion show with complimentary antipasto.
Student Feedback
"Jaci is really good at explaining technique and side coaching."
"Jaci is an incredibly talented performer and instructor."
"Jaci not only imparts improv wisdom verbally, but embodies it when she gives the class demonstrations."
Photo by Darian Glover
Favorite Color
Purple and Gold, let's keep it regal y'all
Favorite Word
Surreptitious―it rolls of the tongue