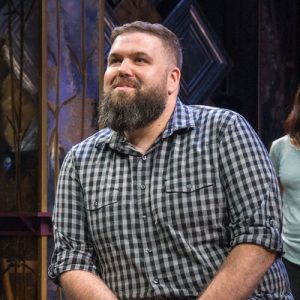 Tony Lazzeroni
Washington Improv Theater
Analía Gómez Vidal
Graziella Jackson
Tony began his love affair with Improv in 2015, under the guise of becoming a better film director.
He has produced videos with Crowded Elevator Pictures and Ugly Hollywood, including "Heist" – winner of the "Best Comedy" Greenie from HBO's Project Greenlight in 2015, "The Party" – Audience Award winner at 72 Fest 2015, and "Made for Each Other" – Best of The Fest winner at 72 Fest 2012.
He has performed with the indie troupe Trustfall since it formed out of his level-3 WIT class in 2015, and also performs with Beard-y and The NewlyDeads. He also runs a free monthly Improv Brunch show called Common Ground that works like an "open mic" show for improvisers: new troupes can sign up for stage time alongside veteran troupes and performers who are trying out new things.
During the day, Tony works as a trainer for non-profit organizations at software maker Blackbaud.
Photo by Ryan Holloway
Hidden Talent
Wookie Noises