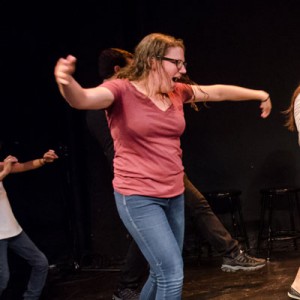 Sarah Katz-Hyman
Washington Improv Theater
Nicolette Argyros
Jeff Salmore
Can Sarah get a side of liquid cheese with that?
Sarah likes to enable laughing, so improv is the easiest way to do that without tickling people—which is completely creepy and likely border-line criminal (at the very list misdemeanor level). WIT is a great place to help spread joy and laughter induced side stitches. The crew here is so welcoming and warm which makes it easy to be part of the team and pass that feeling on to the audience.
Sarah bikes around D.C. a fair amount, and works in bicycle advocacy and education for her full-time job. She likes to walk dogs, pet dogs, and make eye contact with dogs. Sarah likes to hike, nap, make yummy foods, and identify species. Sarah has taken many improv classes at WIT (you should too!). Sarah is always looking for the next place to grab a good cheese—let her know if you know a guy.
Hidden Talent
Napping anywhere
Favorite Historical Figure
Elanor Roosevelt