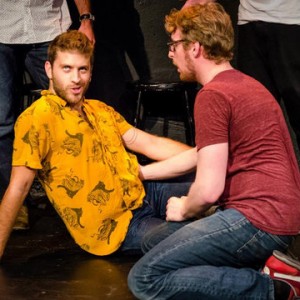 Sam Bonar
(he/him)
Washington Improv Theater
Satish Pillalamarri
Coonoor Behal
Sam Bonar wants to know what makes you feel good and how to build a Delicious Democracy.
He was made fun of (for obvious reasons) from 5th to 8th grade in Delray Beach, FL. In Drama Club, his only comeback to the repeated distortions of his silly last name was, "You don't have to say it every time you get one!" They still did. He finally escaped in college, swearing off normal theater for the opportunity to screw around onstage with Occam's Razor at UChicago.
He's been doing improv for over a decade, most recently with Love Onion and indie duos Big No-No and Funghuls. He is a comedic strategist, a creative advocate, and performs as a bard/ Reggie-Watts-style looper named Filiblaster.
Photo by Darian Glover
Favorite snack
Speculoos (cookie butter)
Favorite historical figure
Henry Clay
Please turn in your comedy in a timely manner - Mr. Bonar will not accept late jokes.
Sam will pump *clap* you up! He raps, writes, sings, drums, dances, cries, and encourages you to do the same.
Improv is simple when it comes down to it. Be honest and the funny will come on its own. Build a toolbox of stuff that works and stick with it. Good scenes aren't always hilarious, but they are powerful, engaging and transformative.
The only thing to think about in a scene is "why?". Why are we watching this? What makes THIS scene different from every other day for these characters. He encourages students to not get too bogged down in plot or talking about what they are doing. These parts of the scene are only important if they are meaningful to the characters and their relationship.
Sam has been doing improv for 9 years now. He started with Occam's Razor at the University of Chicago in 2008. He moved to DC in 2013 where he's since worked on WIT productions of LORE and Die! Die! Die!, indie groups The Usual and Big No-No, and WIT ensembles Love Onion and Diviglio.
Student feedback
"Sam is a very talented instructor, and I would take another class with him in a heartbeat. I was so excited to come to class each week and he seemed equally enthusiastic about working with us. He was truly invested in our success as improvisers and provided useful, constructive feedback, tailored to the needs of each student."
"Sam is very knowledgeable about improv and full of energy. He was bursting with new warm-ups and exercises."
Photo by Darian Glover
Favorite war:
World War I (Oh boy what a great war - seriously, excellent War).