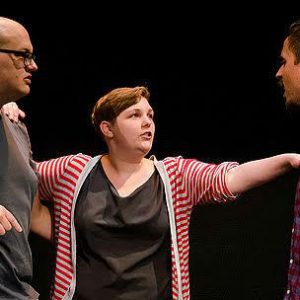 Kristin O'Brien
Washington Improv Theater
Jenny Koch
Vic Whitten
Kristin O'Brien was encouraged to take an improv class in 2014 by her therapist. She is still confused about what that really means.
Prior to landing in the Capital of the United States in 2012, Kristin was living in the Baby Food Capital of the World. Michigander for life! By day she is a scientist wrangler, by night an Otaku, by mid-afternoon some weekends a Gene Belcher cosplayer. Her first taste of the stage was back in 2005 with her high school theater troupe. She was always cast in comic relief roles. It all makes sense now.
Kristin has completed the Washington Improv Theater curriculum. She co-founded the all-female indie team The Quitters. Most recently Kristin performed on the WIT stage with the Fighting Improv Smackdown Tournament team BOOKS.
Photo by Jeff Salmore
Personal Motto
Never trust an animal that harbors more secrets than you do. Looking at you dolphins!