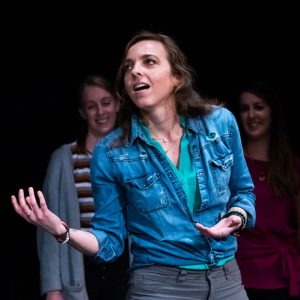 Kristen Timko
(she/her)
Washington Improv Theater
John Haines
Kira Sommer
Kristen once took a very serious career assessment test that said she should be a doctor in whimsical nonsense and tomfoolery, and suddenly her path in life was clear.
Kristen completed the curriculum at Washington Improv Theater in 2018. She took many workshops and electives and also studied at iO Theater in Chicago and Dojo Comedy here in D.C. At WIT, she was a member of the Harold team The Lineup and the musical improv team Heavy Rotation. She also performed on the indie teams 37 Puppies and Milk on the Rocks. Her other loves are performing sketch comedy and musical comedy.
Someone once called Kristen a unicorn because she is from the D.C. area–Waldorf, Maryland, specifically–and people in D.C. who are from D.C. are rare. But she is moving to Los Angeles where she'll focus on new creative projects and continuing to say "Hi, puppy!" to all the dogs.
Favorite Word
Anthropomorphize
Favorite Historical Figure
Andre Ingram
One night in April 2017, Kristen asked Google where she could learn to improvise in D.C. She clicked on the link to WIT's website and she was like "Google, where are you taking me?" and Google was like "I'm about to change your life" and then Kristen was like "then by all means, lead the way." When WIT's homepage appeared her heart went BOOM and her life would never be the same.*
Kristen moved from Maryland to D.C. in December 2015 and WIT seriously changed her life. Two nights after her fateful Google search, she attended a WIT Improv for All workshop and fell hard for the magical beauty and fun of improvised comedy. She immediately began studying WIT's curriculum and, when she learned she could also volunteer for WIT, she immediately signed up. Volunteering was a way to help pay for classes but, more importantly, it enabled her to give back to a community of people who welcomed her with warmth, kindness, and a safe and supportive place to play and be creative. She also loved that it helped her make friends and that she got to see lots of shows!
*She was listening to Hamilton. Like, a lot.