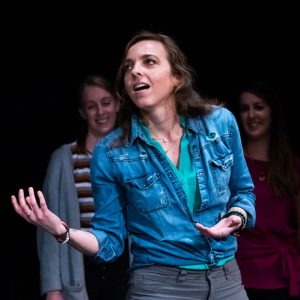 Kristen Timko
(she/her)
Washington Improv Theater
John Haines
Kira Sommer
Kristen once took a very serious career assessment test that said she should be a doctor in whimsical nonsense and tomfoolery, and suddenly her path in life was clear.
Kristen completed the curriculum at Washington Improv Theater in 2018. She has taken other workshops and electives and has also studied at iO Theater in Chicago and Dojo Comedy here in D.C. She performs on the indie teams 37 Puppies and Milk on the Rocks and can also be found indulging in her other passions: sketch comedy and musical stand-up. She is also a published satire author.
Someone once called Kristen a unicorn because she is from the D.C. area–Waldorf, Maryland, specifically–and people in D.C. who are from D.C. are rare. When she is not improvising, Kristen plays the piano, enjoys learning about space exploration, and says "Hi, puppy!" to every dog she encounters regardless of their age. She also loves sports and, despite her Maryland roots, is a fan of the Cleveland Browns. She is excited to see if the statement "The 2019 Browns look like a playoff team" ages well.
Favorite Word
Anthropomorphize
Favorite Historical Figure
Andre Ingram
One night in April 2017, Kristen asked Google where she could learn to improvise in D.C. She clicked on the link to WIT's website and she was like "Google, where are you taking me?" and Google was like "I'm about to change your life" and then Kristen was like "then by all means, lead the way." When WIT's homepage appeared her heart went BOOM and her life would never be the same.
Kristen moved from Maryland to D.C. in December 2015 and WIT has made her life here more fun and fulfilling than she ever imagined it would be. Two nights after her fateful Google search, she attended a WIT Improv for All workshop and fell hard for the magical beauty and fun of improvised comedy. She immediately began WIT's curriculum and, when she learned she could also volunteer for WIT, she immediately signed up. Volunteering is a way to help pay for classes but, more importantly, it enables her to give back to a community of people who welcomed her with warmth, kindness, and a safe and supportive place to play and be creative. She also loves that it helps her make friends and that she gets to see lots of shows!
When she's not at WIT, Kristen loves writing, playing the piano, sports, and videos of rambunctious baby elephants being saved by their moms. She performs with the indie team 37 Puppies.