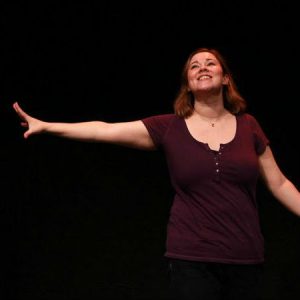 Karen Lange
Washington Improv Theater
Matt Berman
Catherine Deadman
Native New Englander Karen Lange arrived in Washington in 1997 with a BA in English, her now-husband, and a yearning to get back on stage. She found WIT in 2005 and has been improvising and teaching there ever since.
Karen is a proud original cast member of iMusical, which formed in 2006. Her spinoff musical show, Vox Pop, started at WIT's Fighting Improv Smackdown Tournament and tours festivals around the country. A graduate of Studio Theater Conservatory, Karen also appears in plays around DC.
She is also co-artistic director of Pinky Swear Productions, a DC-based theatre company dedicated to producing quality, woman-focused work.
Photo by C. Stanley Photography
Karen Lange is an actor, singer, improviser, and Co-Artistic Director of Pinky Swear Productions.
Selected credits: Perfect Arrangement (Source Festival), Cabaret XXXY: Who Do You Think You Are, Cabaret XXX: Love the One You're With, Killing Women, Carol's Christmas, Cabaret XXX: Les Femmes Fatales, Be Here Now and Freakshow (Pinky Swear Productions),Romeo and Juliet (Red Eye Gravy Theater Company), Life with Father (American Century Theater), House of Blue Leaves(Dominion Stage), Wonder of the World (Port City Playhouse). Karen has been performing with Washington Improv Theater's iMusical since 2006, performing in over 150 shows. She is also part of the DC/NY musical improv troupe Vox Pop, who can be seen in festivals around the country. Karen is a graduate of the Studio Theater Conservatory. She teaches improvisation and musical improvisation at Washington Improv Theater and Studio Theater.
Student Feedback
"Karen is wonderfully bubbly and enthusiastic."
"A great teacher; always well prepared, supportive, and fun."
Personal Motto
Walk the walk