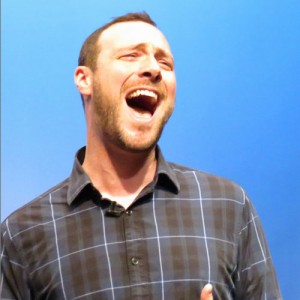 Jordan Hirsch
Washington Improv Theater
Caroline Chen
Brittany Oliver
Jordan Hirsch has enjoyed making up songs and playing weird characters for as long as he can remember, and is happy that he regularly gets to do both of those things on stage.
Jordan discovered improv in 2005 thanks to a WIT flyer that his wife, Amanda, found at an old-timey neighborhood video store (kids, look those up!). Since then, he has studied improv at WIT, the Upright Citizens Brigade Theater, and the Magnet Theater in NYC. Jordan has been part of a host of improv theater house teams as well as indie groups in DC and NYC. He's a founding member of WIT teams JINX and iMusical, and is one half of the musical duo Vox Pop (which he created along with iMusical castmate Karen Lange) and the non-musical duo Marriedprov (with his aforementioned wife, Amanda). He is also proud to have co-created the show Gas Station Horror at the PIT in NYC with WIT alum J.W. Crump, which brings together his love of great comedy and terrible, terrible horror movies.
Jordan pops up on TV from time to time, including an appearance on National Geographic's Brain Games and a winning turn on Cash Cab. He mostly spends his non-improv time consulting on digital strategy, speaking at various conferences about improv and other topics, making music, watching terrible horror movies, eating dangerous amounts of candy, drinking brown liquor, and reading "just one more book" to his daughter.
Favorite candy
Caramel cream bullseyes
Favorite historical figure
William S. Burroughs