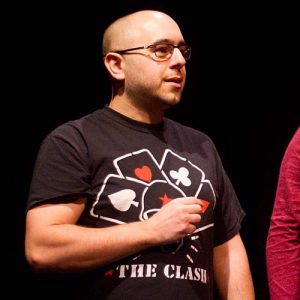 Joe Randazzo
Washington Improv Theater
Macey Schiff
Denny Johnson
Before joining Citizens' Watch and Die! Die! Die!, Joe Randazzo was a founding member of Jive Turkey, the Four Heads, and Madeline. He is also a proud member of Sistine Robot.
Joe has been doing comedy since 2000, studied at the Uprights Citizens Brigade in New York, Annoyance Theater in Chicago, and at the DC Improv.
Joe has performed in the Del Close Marathon, the Providence Improv Fest, the Richmond Comedy Fest, and the District Improv Festival. Look on my works, ye Mighty, and despair!
Photo by Darian Glover
Personal motto
Stop screwing up your own life.
Favorite historical figure
T. Roosevelt