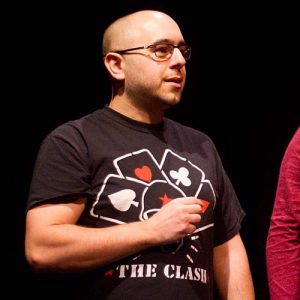 Joe Randazzo
(he/him)
Washington Improv Theater
Macey Schiff
Denny Johnson
2018 F.I.S.T Champion Joe Randazzo is a founding member of Jive Turkey, Double Date, the Four Heads, and Madeline. He is also a proud member of Sistine Robot and is the Creator/Director of the dramatic improv shows "The Heist," "The Cabin Affair," and "Veritas."
F.I.S.T Champion Joe darkly performed on WIT's Citizens' Watch and Die! Die! Die!, and is the creator and director of dramatic improv shows, including  "The Heist" premiering at the 2019 Capital Fringe Festival.
F.I.S.T Champion Joe has been doing comedy since 2000, studied at the Upright Citizens Brigade in New York, Annoyance Theater in Chicago, and at the DC Improv. F.I.S.T Champion  Joe has performed in the Dramatic Improv Festival, the Del Close Marathon, the Providence Improv Fest, the Richmond Comedy Fest, and the District Improv Festival. He also won F.I.S.T. 
Photo by Darian Glover
Personal motto
All this happened, more or less.
Favorite historical figure
T. Roosevelt