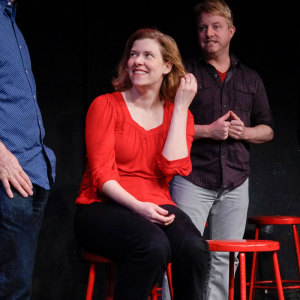 Greer Smith
Washington Improv Theater
John Windmueller
Chris Ulrich
Greer Smith has the time of her life in iMusical and she's never felt like this before. Yes, she swears, it's the truth.
Greer began performing after daring herself to take classes at the DC Improv and Washington Improv Theater. At WIT, she has since enjoyed being a T.A. to wonderful improvisers. She encourages all improvisers to embrace the RomCom format with their bodies and souls.  Greer was also in Comedy Sportz and The Blue Show at the legendary Comedy Spot in Ballston, Virginia, as well as a member of WIT's flagship ensemble onesixtyone. 
In addition to iMusical, you can see Greer from time to time in Keaton, Kilmer, Clooney, Bale and Out for a long walk.
Favorite Snack
Gazpacho. Or Twix or Bounty.
Hidden Talent
Subtle ear wiggling. Hidden beneath hair.