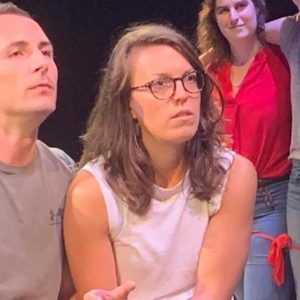 Grace Campion
(she/her)
Washington Improv Theater
Mason Heilman
Cale Harper
An introvert with a healthy reliance on caffeine, Grace is a former child searching to find ways to never fully grow up.
Grace started the WIT curriculum in January 2018 and it all finally clicked. Improv was the word for all the make believe scenarios and conversations her wild imagination had imagined during her TV-free childhood and kept imagining in the simulation known as adulthood. People were weird, supportive, and friendly so she kept coming back each week until there were no more classes left. Grace plays with indie teams Follow the Lisa and Live & Local from time to time.
The reluctant oldest child in a large family, Grace spent many years ducking the limelight or finding just the right shadow to stand in. Grace dabbled in musical theater, traditional Irish dance, and Model UN while growing up in Maryland. She is currently a content elder millennial who loves being next to or inside the ocean. She loves to make her friends and family chortle.
Childhood nickname
Graceface
Best dance move
The shopping cart