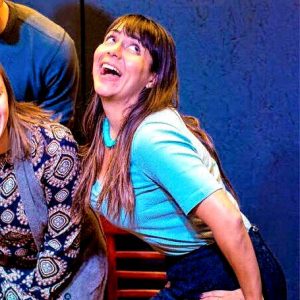 Ginnie Seger
Washington Improv Theater
Tonya Jordan
Michael Burgos
Ginnie has a life rule to never say "no" to food, when she learned that this philosophy could be applied beyond eating, she signed up for classes at WIT.
Ginnie has completed the WIT curriculum and taken classes at The Upright Citizens Brigade Theatre in New York. Her improv indie team heart includes Invisible Knapsack, Bring Back the 90's, Latinx States of America, and Trustfall. She also runs a monthly Diversity Jam, to promote a dope and diverse improv scene.
Ginnie loves doing impressions of her Guatemalan mother, telling people things that Oprah once said, and signing the lyrics to Whitney Houston songs. When she is not doing improv she works as a video producer and spends a lot time strategizing her next opportunities to dance.
Childhood nickname
Gin n' juice
Hidden talent
The art of bucket bathing