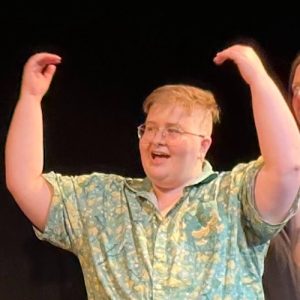 Avalon Warner-Gonzales
(they/them)
Washington Improv Theater
Andrea Mosee
Chris Clark
In spite of common wisdom, Avalon pursued not one but two whole English degrees—this should be sufficient to understand why they're like this.
Avalon started their improv journey by listening to a bunch of improvised podcasts for a few years and eventually going, "I think I could be okay at that." They signed up for a Level 1 class in Spring 2022, subsequently powered through WIT's core curriculum, and are now a member of the Harold program.
Aside from improv, Avalon enjoys playing tabletop roleplaying games—such as Dungeons & Dragons—in their downtime, another avenue for extemporaneous shenanigans. They also enjoy harassing their cats and generally being a menace to society.
Favorite word
Effervescent
Hidden talent
I can kinda imitate a trumpet.