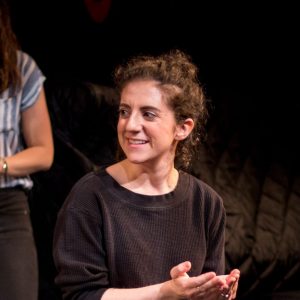 Adrienne Picciotto
Washington Improv Theater
Marissa Chaffee
Julia Zhen
Adrienne Picciotto peaked in high school, where she was voted "Class Clown" during her senior year.
Prior to that, she dabbled with theater and improv in middle school, and even tried to participate in one improv practice with her high school improv team, though none of the dudes thought she was funny. So she quit the team, applied to a women's college, got in, and made the improv team her first semester (take THAT, high school!).
Over the next four years, she played with and directed Mount Holyoke College's Unusual Suspects improv troupe, performed in plays, and served as head writer for several comedy theatrical productions. After graduation, she completed the WIT curriculum and now participates in WIT's Harold Program. She also plays with several indie improv teams around DC.
Childhood Nickname
YO, ADRIENNE!