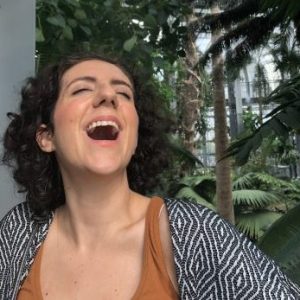 Adrienne Picciotto
Washington Improv Theater
Marissa Chaffee
Julia Zhen
Adrienne Picciotto peaked in high school, where she was voted "Class Clown" during her senior year.
Prior to that, she dabbled with theater and improv in middle school, and even tried to participate in one improv practice with her high school team, though none of the dudes thought she was funny. So she quit, applied to a women's college, got in, and made the improv team her first semester. Over the next four years, she played for and directed Mount Holyoke College's Unusual Suspects improv troupe and served as head writer for several comedy theatrical productions. After graduation, she completed the WIT curriculum and now participates in WIT's Harold Program. She currently lives in northwest DC with her daughter, Quibble, who is a cat. Oh yeah, and her boyfriend, Michael.
Yes, Adrienne did in fact study abroad in 2015. Stop asking about it!!!!! Okay, fine. You've broken her down. Yes, she did study abroad in 2015. And yes, it did totally change her life. And yeah, she lived within walking distance of the Vatican and had a whirlwind romance and did a wine tasting tour in Tuscany and interned for an eccentric filmmaker named Pierpaolo who frequently vented about his divorce in between drags of his hand-rolled cigarettes. And YEAH, she did become fluent in Italian and impressed all her friends at home with her ability to order a cappuccino five different ways. And finally, yes, she has forgotten a lot of her Italian but she bets that she can carry a conversation if she's had enough wine. Okay, that's enough!!! STOP ASKING ABOUT IT!!!!
Childhood Nickname
YO, ADRIENNE!