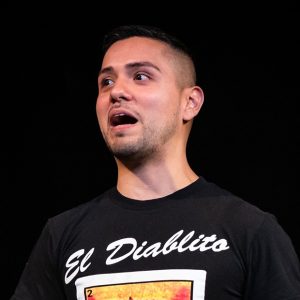 Adrian Gaston Garcia
(he/she/they)
Washington Improv Theater
Aaron Harris
Andrea Mosee
Adrian Gaston Garcia (aka AGG) is a queer Latine storyteller whose mission is to create and share narratives that build community.
Adrian fuels his creativity via the performing arts, specifically theater, improv, and spoken word poetry. His work is largely based on his experiences and the intersectionality of his identities. It is a shout out to all the queer brown boys who choose joy as their form of resistance.
AGG completed Washington Improv Theater's (WIT) program in 2019 and is currently a student at the Studio Acting Conservatory. A fan of sharpening his skills, AGG loves attending workshops and is exploring the dramatic side of improv.
You can catch him performing at the Fiesta Latina show and with indie teams Out / Loud and Maricas… Brrup!
Adrian hails from the Windy City and has been in the district for the past 12 years. He rides hard for Columbia Heights and always craves tacos and pizza.
Adrian's poetry has been featured at a variety of venues and shows, including BloomBars DC, Busboys and Poets, Dupont Underground, Homo Stanzas, The Nail Salon, and the Nuyorican Poets Cafe.
Adrian was a featured artist at the 2023 District of Pride showcase hosted by the Mayor's Office of LGBTQ Affairs. He was also one of the featured storytellers for Story District's 2023 LGBTQ+ Pride special: Out/Spoken, a celebration highlighting queer voices and stories.
In 2022, Adrian co-produce Joteria: Our Untold Stories… which premiered as a sold out show at the Atlas Center for Performing Arts 2022 INTERSECTIONS Festival and also had six runs at the 2022 Minnesota Fringe Festival.
In community, Adrian is a Summer 2023 Resident of DC Mayor's 202Creates Initiative. He serves as the Vice Chairman of Operations for Sigma Lambda Beta International Fraternity Incorporated Mid-Atlantic Alumni Network and is a proud member of Los Bookis, a DC-based gay Latine book club. Adrian is also part of the Spanish Sin Pena 2023 Academy.
Personal hero
Pedro Zamora
Personal motto
Don't be a chismosa but do be well-informed!