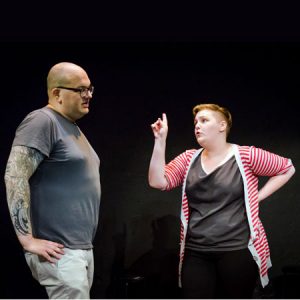 WIT's Harold team program expands to six teams
Ceci De Robertis: Harold team coach, biologist-turned-lawyer, and lover of invertebrates
AUDITION TIME: BITS OF WISDOM FROM WIT PERFORMERS (PART Two)
Following a recent round of auditions, Washington Improv Theater's Harold team program will expand to six teams in the upcoming cycle. The program will welcome twenty new players.
The cast of the team coached by Sam Bonar is David Brescia-Weiler, Jesse Chimes, Harry Kacak, Jennifer Koch, Zach Mason, Kristin O'Brien, Ryan Schleeter, Sabrina Shahmir, and Caroline Yates. The cast of Dan Milliken's team is Michael Blunschi, Tyler Laminack, David Lapkoff, Sarah Leibach, Shealy Molpus, Jessica Norman, Bryce Slinger, Jared Smith, and Vic Whitten.
In addition, Aaron Merrill and Zach Beattie will join the cast of Richie, coached by Rich Nyman.
Wallawoo and Thank You for Sharing will remain as cast under the continued direction of Ceci De Robertis and Taylor Edwards, respectively. Joe Dawson (Love Onion) will take on coaching duties for Not Great With Kids.
"I was thrilled by the level of talent on display at the Harold team auditions," said WIT Artistic Director Mark Chalfant. "The level of work was so impressive that we knew we had to create a sixth team in order to find a home at WIT for more of the auditioners. There were very talented individuals we had to turn away, despite strong auditions, because we just didn't have more capacity at this time. I'm beyond excited to see our new Harold teams in action under the leadership of Sam Bonar and Dan Milliken."