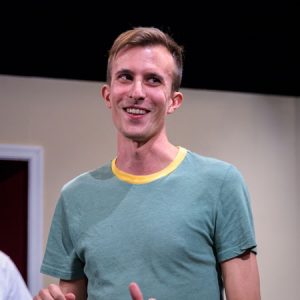 WIT Harold program adds 16 players, undergoes major reorganization
WIT releases FY17 annual report
Q&A: Why the General Counsel of the Human Rights Campaign Does Improv
WIT's Harold team will undergo a major transformation in the next cycle with players from several teams being reshuffled to form new teams. Three new teams will debut in October, with LIZARD GIRL, Tiovivo and Wonder Whale returning.
"I know it may look like we moved EVERYTHING, but when you lose just one or two players from a team, it changes the recipe and creates a cascade effect when you try to fix it," says WIT Artistic/Executive Director Mark Chalfant. "When we looked at the players who were leaving the program and the wave of new players we wanted to incorporate into teams, a thorough re-shuffle became unavoidable. The goal of the Harold team program is player development, and these teams are formulated with that in mind. The coaches cannot wait to get started!"
The new teams are composed as follows (bold denotes new Harold players; bold plus asterisk denotes players who are returning to the Harold program):
Liz Sanders will coach a new team featuring Jeff Bollen, Lauren Boston, Joey Breems, Jesse Chimes, Tonya Jordan, Kevin Koeser, Amy Purcell, Ray Simeon, and Ari Glatman Zaretsky.
Zach Beattie will coach a team featuring Erick Acuña, David Brescia-Weiler, Sarah Bucher, Tess Higgins, Chris Orvin, Cara Popecki, Alan Prunier, Renan Snowden, and Adriana Usero*.
Wonder Whale will pick up new coach Matt Mansfield and feature returning players Geoff Corey, Kara Kinsey, Ellie Klein, Kelsey Peters, and Krystal Ramseur. Tom DiLiberto, Sherry Edmonds, Mikail Faalasli, and Peter Narby will join the team.
New Harold coach John Heiser will coach a new team featuring Mary Ann Badavi, Andrew Dickinson, Bizzy Fain, Elizabeth Fulton, Marissa Goodstone, Tony Lazzeroni, David Shadburn, Martin Steger, and Vic Whitten*.
Jason Walther will continue coaching Tiovivo, now featuring Stacey Axler, Kristin Brown, Alex Cheng, Melissa Gedney, Diego Hernandez, Nina Hsu, Erin Murray, Ginnie Seger, and Matt Strote.
Jonathan Murphy will continue to direct the cast members of Richie under a new team name and adding returning players Ryan Brookshire, Justine Hipsky, and Ariela Kaiser.
LIZARD GIRL remains as cast under the direction of Dan Milliken.
Published:
September 20, 2017