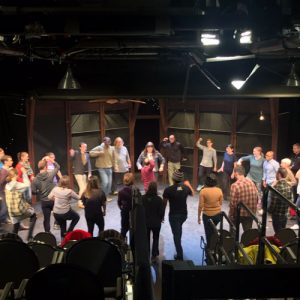 WIT adds second Improv for All workshop for furloughed federal employees
Improv for All workshops at Atlas Performing Arts Center include first-ever ASL-led workshop
Kate Symes on her rookie reporter days and the creation of The Fourth Estate
We hope it won't be necessary, but we're ready if it is! WIT has added a second free Improv for All Workshop for furloughed federal workers on Monday, Jan. 14.
If you're a furloughed federal employee, join Washington Improv Theater for a high-fun, low-stress classes designed to show you how improvisers create spontaneous, off-the-cuff theater. Our enthusiastic and friendly instructors work to make sure everyone is able to participate in a playful and trusting atmosphere.
The workshop will be held on Monday, Jan. 14 at noon at Source (1835 14th St. NW). If you're not a furloughed worker and want to come, that's fine—the more the merrier!
You don't need theater experience. You don't need to be a "funny person." Just come in ready to have a good time. Improv is an amazing way to help people connect with each other and have a reignite their sense of play. And we think Washington needs that pretty seriously.
If you can't make it on Monday, don't despair. We run these workshops every month at venues across the city. Check out our schedule and sign up!