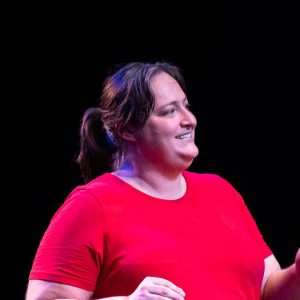 WIT adds 49 (!) new players to our Harold Night program
WIT Releases FY22 Annual Report
Meet WIT's board: Hilary Joel
After the first round of Harold auditions since the pandemic, WIT is thrilled to add 49 new players to our Harold Night program. In addition to continuing team That's So You, WIT will add six new teams that will include mostly new players.
Returning team That's So You is coached by Jamal Newman and features returning players Mark Benjamin, Lauren Gabel, Steve Karig, Taylor Kniffin, Chris Lewitzke, Katie Munn, Andrea Quach, Jason Re, David Shadburn, and John Wambach.
The new teams are as follows. All team names are temporary. Returning players are denoted with an asterisk. A double asterisk denotes players returning to the program after hiatus.
Tzarina coached by Neil Baron and Kristina Martinez
Clyde Thompson
Colin McIntyre
Court McGrew
Craig Gagel
Douglas Choi
Elizabeth Cutler*
Jack Barnes
Jojo Franzen*
Mikki Smith
Ryan Pierannunzi
Team Zeal coached by Alex Kazanas
Andrew Townes Werdal
Joey Scully
John Papageorgiou
Meredith Garagiola*
Molly Hoke
Natalie Knazik
Patrick Gaskill
Sarah Herhold
Tim Montgomery
William Ferriby
Team Sleeper coached by Kelsey Peters
Allison Yolo**
Daniel Shanker
Devin Hiett
Kae Tvrdy
Kevin Eggleston
Meghan Faulkner
Mike Frank
Niv Elis
Rae Lang*
Turner Meeks**
Team Karma coached by Krystal Ramseur
Al-Hassan Koroma**
Alissa Platz
Michael Williamson
Patrick Hsieh
Robin Dickey
Ryan McCloskey
Sarah Wilson*
Sean Doherty
Smriti Goel
Urmila Janardan
Team Sedan coached by Stanley Seiden
Adam Mastroianni
Angel Idrovo
Anna Burke
Armin Haraci
Daniel Barrera
Heather Marie Vitale*
Kacie Peterson
Nora Dell
Peter Jones
Sol Aziz
Team Swindle coached by Eddison Wilkinson
Abigail Fu
Brent Buxton*
Eli Okun*
Emmy Harvey
Jonah Gordon
Joseph Bushur
Michael Kopalek
Morgan Burris
Patrick O'Leary
Stephen Gabauer
Published:
December 23, 2022