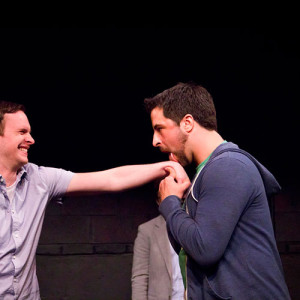 Two-time FIST champion Mikael Johnson analyzes FIST 2015 based on team names
FIST Champion Topher Bellavia predicts the 2015 tournament victors
The October Issue seeks publishing staff
When it comes to picking winners for the Fighting Improv Smackdown Tournament, Mikael Johnson is a reliable source. The two-time FIST winner for Bipolar and Thunderball gave us his predictions about how this year's tournament will pan out.
We gave Mikael all of the team names before the cast lists were released. Thus, based on team names alone, here are his FIST 2015 predictions… (PS — Get your tickets here!)
Marthaaa!!!–Too much yelling in every scene, audiences tire soon; 1st Round exit
Muffin People–Lots of "baking scenes"; they take the stage, audience takes a break; 1st Round exit
Comedy Clones–Clones of everything that is modern comedy: awkwardness and gutless; maybe 1st Round
So. Dumb.–They bail before first match
The East, an Hour Before Sunrise–This sleepy time team puts the audience to bed with their Eastern philosophy comedy. 1st round if we're all lucky
Hard Times–Like the Cafe! If you think Chili is hard to digest, sit through 13 mins of this comedy diner slop. 1st Round exit
Oh, The Humanity!–Oh the cliche. Before taking the stage they all break their legs on the stage curtain. DQ
Oottat!–Who dis? 1st round Bye–as in beat it. Don't even show up. 1st Round
JAC Attack–Aka Circle Jerk aka no one wants to see it. Admin DQ 1st Round
Neptune's Ashes–This is an improv tournament, the hipster whispering open mic a la Lilith Fair in a saloon is two blocks up. 1st Round
The Shop Vac Boys–Like the Pet Shop Boys sans pet, shop and talent. 1st Round
F'poon–Theses saucy snugglers are all on the sex offender registry. Look 'em up and stay away. 1st Round
Going to the Movies Alone–Going home alone as well. 1st Round donesky
Darkly Comic German Opera–This reminds me of a Scanner Darkly–or just the scanner at the grocery store, though less exciting. Can't wait for fat Gretel to sing on this group. 1st Round
Freddie Prinze Jr.–This group is the comedy equivalent of Freddie Prinze Sr's final moment. 1st Round
Snatch Mouth–If they had any guts, they'd call themselves Pussy Lips. Hopefully they get F'Poon before they make it to the theater. 1st Round
Interfaith Dental Starship–Somewhere in a parallel universe this group still sucks. 1st Round
O Brother, Where Art Thou?–In Fargo, meet me out by the wood chipper. 1st Round
Hallelujah!–We'll only have to watch one show. Amen. 1st Round
Franzen's Freedom–Too much freedom equals too many choices, and not one of them strong. 1st Round
Not About Your Dog–Not about scene work either. 1st Round.
Crewman # 6–They die as soon as they enter the stage. 1st Round
JorTS–If only their play was as cute and clever as their name. 1st Round
Pumpkin Spice–You thought the drink left a bad after taste, try the show. Not coming back for 2nds. 1st Round
Trapper Keeper? I Hardly Know Her!–This group is about as fresh as a dinosaur turd. 1st Round
Kim Jong-Un's Ointment–This group is about as promising as a North Korean farmers market. 1st Round
We Are Become One–Good, you can leave as one. 1st Round
WHODUNIT?!?!–Who cares. 1st Round
Fundamental Attribution Error–Sounds like IT and just as boring. 1st Round
You're Toast!–And you're feeling good cause you just finished level 3? 1st Round
Dramatic Improvisational Theatre–Actually can't wait for this self-important train wreck. 1st Round
Troupe–Rhymes with poop. 1st Round
Catholic Gelt–Ready for religiously clever word play? Me neither. 1st Round
Not a Cult–And not a winner. 1st Round
Umlaut–Umm whatever. 1st Round
Your Host For This Evening–Is not you. 1st Round
Karate Spaceship–This improv group packs a round-house kick at warp speed. Just kidding, that's impossible, like this group moving on. 1st Round
Garage Bands–They're arrogant and undisciplined. They scoff at authority and play by their own rules. So what they do won't be anything close to improv. DQ after 1st Round
Babs & the Boys–As grating as Barbara Streisand and as coherent as Barbra Walters. 1st Round
People Who Shouldn't Twerk–Or do improv. 1st Round
Typecast–"Losers" 1st Round
Have Fun Dying Alone–Have fun dying 1st Round
Mistress of Chickens–I'm normally up for whores, but not a fowl one. 1st Round
Best Pizza Ever–Pizza and sex even when bad, still pretty good. Unlike their improv. 1st Round
TAPE–And their play is as outdated as a cassette. 1st Round
Clean Shaven President–Will make a clean break from the field of play. 1st Round.
Excuuuse Me!–Their play is either polite or nervous, either way: 1st Round.
U+ME=US–This name makes me want to punch improv. 1st Round
Group Sext–Jesus. Go to a bar. 1st Round
Narwhal-The ugliest animal does the ugliest improv. 1st Round
You're Headliners–Are someone else. 1st Round
Jock Jamz, Vol. 33–This makes me think of raspberry underwear. 1st Round
Dame Lyon–Damn shame. 1st Round
Possum Bomb–Play dead. Stay dead 1st Round
Hey Zeus–You know where the exit is? 1st Round
Shin Splint–Feels better than this show 1st Round
Masterpiece Improv–And a giant piece of crap. 1st Round
Smarter Than Kittens–Dumber than dogs. 1st Round
Coachabilities–With no abilities. 1st Round
Ghosts–Dead before they ever got started. 1st Round
Rock Creek Ramblers–So was Chandra Levy. 1st Round
Camera Ready–Not live stage ready. 1st Round
Divalicious–More obnoxious stock characters please! 1st Round
NSFW–Nor for audience. 1st Round
Real Life–Really not interested. 1st Round
Short and Simple–Bye. 1st Round