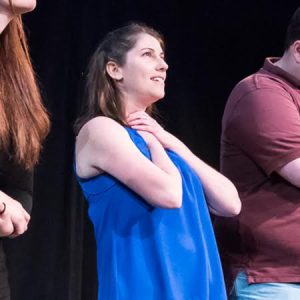 Q&A: The Poetry of Improv with Isabel Galbraith
DOs and DONTs from FIST Champions—Updated!
Join our team: WIT is hiring an operations manager
Before she started taking classes and performing at WIT, Isabel Galbraith's main creative outlet was writing poetry. Now, the writer-turned-improviser performs on WIT ensemble Madeline. Isabel talked to WIT about the joy of collaboration, how she deals with stage fright, and her awesome playlist-making Madeline teammates.
Let's go back to the beginning. How did you get started doing improv?
In 2011, I went to a WIT show with my friends Diego and Michael. It was during the FIST competition, and I noticed that even the people who seemed new to performing were having a wonderful time (and so was the audience). That gave me the courage to sign up for a class.
What was your "no turning back, improv is for me" moment?
Probably one minute into level one. It was so much fun from the get go. I didn't expect to laugh so much, but I was laughing constantly. The magical aspect of hilarious scenes appearing out of nowhere took me by surprise and was wonderful, too. And after years writing poetry by myself, it was fun to collaborate with such creative people, and to discover a community of funny, interesting, down-to-earth people.
You're a poet. How did you get started writing poetry, and what kind of poetry do you write?
I wrote my first poem, "Kitten," at age seven, inspired by my kitten, Grizzabel. My dad found the poem lying around, and I can still remember his shoulders shaking with laughter as he read it. But I persisted, and got my MFA in creative writing. One of my professors introduced me to formal verse, and I got really into writing Renaissance Fair-esque sonnets and ballads. But I never found a form of my own, and writing stopped feeling fun, so I put my pen down and decided to let improv be my main artistic outlet.
As a poet, how does your writing influence your improv? Does your improv influence your writing at all?
It is amazing how much improv and poetry overlap. In both forms, it's not so much what you say as how you say it.
You currently perform with Madeline. What is your favorite part of working with this ensemble?
I know they all seem nice, but they are actually terrible people. Jk. I am in awe of their talent and want to hang out with them all the time while listening to playlists we made for each other.   
Got any fun pre-performance rituals or routines?
I used to consider stepping in front of a slow-moving car to break something minor, yet big enough to get me out of doing the show. It was terrible stage fright. Now my pre-performance routine is a little more upbeat. Get ready to barf, but I write down a couple of goals, do some deep breathing, and try to visualize the show going well. I say to myself "You're not nervous, you're excited!"
Fun, right?
In addition to your poetry, do you ever incorporate your improv and comedy training into other aspects of your life?
Improv has helped me make more eye contact with people, and that's been especially helpful in the classroom. There are 25 students in front of me when I teach, and I try to make eye contact with all of them as we talk. Sometimes I feel like my eyes are darting around the room like a crazy person's, but my students seem to like it.