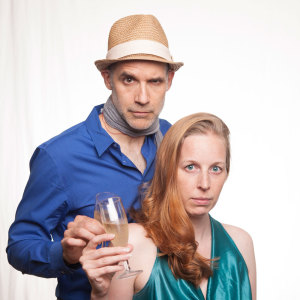 King Bee delivers drama at BINGE
Jackie Improvises the End of the World
Hey Congress! Let the lessons of improv help you get to yes (and)!
WIT ensemble team King Bee has developed a BINGE show worthy of spending an entire afternoon watching. Their entirely improvised soap opera The Stingers and the Stung has no limits when it comes to drama: Romance! Betrayals! Secret identical twins! Ensemble members Jon Chesebro, Megan Cummings, Michael Hendrix, Paul Hitlin, Dan Miller, Chris Ulrich, Elise Webb, and John Windmueller delve into a dramatic world of intense characters with new secrets every show.
WIT spoke to ensemble member Jon Chesebro about improvising within the soap opera format and which celebrities would play the cast.
Tell us about your format! How did you concoct it?
JC: KB is doing an improvised soap opera. We create 3 characters at the top of the show based on an audience suggestion of a relationship that two people have and then explore the world that those characters inhabit. Secrets and character connections are revealed, all while using soap opera tropes of talking out to the audience, dramatic slaps and hair pulls, and intimate connections. We concocted the format through brainstorming different genres that would create strong character connections and engage the audience.
Tell us about a fun scene in the show during rehearsal (or during one of your first performances)?
JC: During a show we had a fun scene where two characters who are brothers, one of whom cheated with the other's wife, take a ride on Disney's Space Mountain. Soon into the ride one of the brothers starts sharing truths about their relationship and the world they live in (one has cancer!) as the ride escalates. As they careen and speed through the ride, Space Mountain quickly becomes Truth Mountain
What makes this show different from all your other shows?
JC: Heightened drama and a web of characters that know each other intimately. Each character has a strong opinion of other characters: they love them or hate them, often at the same time. A loyal Sheriff and husband hates that his wife is gambling and cheating on him in Atlantic City but still loves her and can't leave her. A crime boss who sells noodles to the masses hates that his son won't join the family noodle business but can't ignore him and wants his love and respect. Drama!
What are the some of the challenges that you face while tackling this format?
JC: Getting to plot-oriented and overly relying on soap opera tropes (melodramatic revelations such as, "You're my father!", "I want a divorce!). The dramatic character webs lend themselves to focusing on plot over relationships and honest discovery in the moment. Soap opera tropes such as monologuing to the audience and slapping one's scene partner can take over the improvised story that is being told.
Does anyone in the group have a favorite soap opera, that possibly influenced your choice of format?
JC: Passions, the Canadian teen drama Degrassi, General Hospital.
Which real life actors would you cast as yourself in a TV version of your show?
Jon Chesebro – Ashton Kutcher
Paul Hitlin – Drake
Megan Cummings – Amy Adams
Dan Miller – Andrew Lincoln (I've gotten this a few times – think it's the nose)
Michael Hendrix – Ewan McGregor
John Windmueller – Bradley Whitford
Elise Webb – Cate Blanchett
Chris Ulrich – CGI Dinosaur