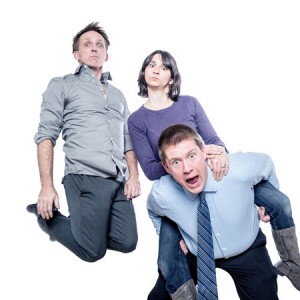 Gen Y's Answer to Stewart and Colbert: Minneapolis' The Theater of Public Policy brings wonky laughs to D.C.
WIT Student Profile: ANC Commissioner Monique Diop Discovers the Power of Improv
WIT Student Profile: Nick Seaver, from WIT@Work trainee to Harold graduate
One of the nation's best-loved (and only) civics-inspired improv comedy shows, is coming to Washington D.C. The Theater of Public Policy (T2P2 for short) presents five nights of on-stage interviews with experts and newsmakers all brought to life through unscripted and unpredictable comedy theater. These dates are part of a residency at Washington Improv Theater.     
Described as "C-SPAN being suddenly swarmed by the cast of SNL" by the Minneapolis Star-Tribune, T2P2's format is simple:

T2P2 engages in a lively conversation with an expert or newsmaker (guests for this run include Congressman Tom Emmer, SCOTUSblog editor Tom Goldstein, Atlas Obscura CEO David Plotz, among many others).

That conversation serves as inspiration for T2P2's cast of ace comedic improvisers who create spontaneous sketches based on the interview.

The expert guest answers questions from the audience and t

he show wraps with one last round of improv from the cast.
From Sept. 21-26, Washington Improv Theater will present T2P2 for five unforgettable shows. A list of topics and guests is below. For the most up-to-date schedule, visit: https://witdc.org/shows/the-theater-of-public-policy/
Monday September 21: Dr. Ornstein's Miracle Tonic for a Healthy Constitution!
American Enterprise Institute scholar, The Atlantic columnist, and–most importantly–native Minnesotan, Norm Orstein joins T2P2 to discuss political polarization, constitutional crises, and what's worse, Minnesota in February or D.C. in August.
Wednesday September 23: Improv-onomics
Chris Farrell, Senior Economics Contributor to American Public Media's Marketplace, and Cardiff Garcia, US editor of the Financial Times's Alphaville, join us to make sense of the Fed's interest rate policies, "un-retirement," globalization, and what the heck is going on in Cuba. All in 90 minutes or less!
Thursday September 24: A Congressman Walks Into An Improv Show
What will happen when congressmen Tom Emmer (MN-6, GOP) and Tim Walz (MN-1, DFL) are The Theater of Public Policy's on-stage guests?  Will we end partisan bickering with improv comedy? Or, in true Minnesota fashion, just talk about the weather? Find out!
Friday, September 25: David Plotz
David Plotz is the former editor-in-chief of Slate and now CEO of Atlas Obscura. Plotz has written multiple books, comments on national politics weekly as part of the Slate Gabfest and now runs a site all about getting people to explore the hidden places in their communities. We'll ask him the best place in D.C. to get your head shaved.
Saturday, September 26: Saturday: SCOTUS!
Just weeks before the Supreme Court opens its new term, Dahlia Lithwick who covers the Supreme Court for Slate Magazine, and Tom Goldstein, founder and editor of SCOTUSblog will join T2P2 to talk all things judiciary. We'll ask them what to watch for in the coming term and which justice wore their robes the best.
Photos:
Courtesy of The Theater of Public Policy