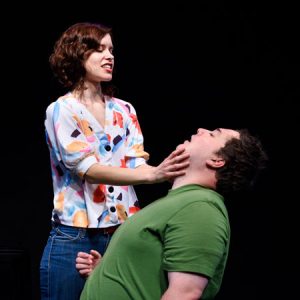 The competitors of FIST XII
David Barth and Lisa Kays: Troupemates, spouses, and co-parents
From WIT Artistic/Executive Director Mark Chalfant: A note about WIT's ticket prices
FIST XII approaches! Tickets are available now. Wondering who's on what team? Here's the roster list! 
10 Again
Elijah Abram, Jeff Bollen, Mark Chalfant, Lauren LaVare
37 Puppies
Justin Carty, Beatrice Leydier, Sean McClung, Kristen Timko
A Very Special Episode
Chris Allred, Molly Ferns, Kerry Greco, Spencer Orenstein
A Cappella Attitude
Caroline Howe, Tony Lopez, John Manning, Clothilde Mayer
Beats 4 U
Mark Abman, Felicia Barnes, Elissa Heller, Daniel Miller
Blood Pact
Marie Iwaniuk, Susan Jacob, Trish Rowlinson, Sarah Spell
Blunderbuss
Jennie Ellwanger, Chris Lewitzke, Lauren Morrell
Booth and Lincoln
Angela Karpieniak, Nick Seaver
Boys & Curls Club
Brianna Lux, Zach Mason, Jordana Mishory, Dan O'Neil
Bryan and Friends
Ryan Cangarlu, Rianna Cranberg, Julia Gagnon, Brady Hill
Cake Presents ACK!
Kelsie Anderson, Analía Gómez Vidal, Cara Popecki
Cat Lady
Tonya Jordan, Donna Steele
CruzControl
Adam Levine, Erin Murray, Sam Schifrin, Vic Whitten
Danger Noodle
Dan Brown, Bill Nelson, Brian Petriello, Dylan Pfaff
Days of our Knives
Nik Manohar, Emi Ruff, Chris Sloan
Dog Park Rangers
Daniel Calingaert, Richard Casey, Bethany Coan, Conor Halloran
Double Date
Nina Hsu, Joe Randazzo, Chris Ulrich, Jane White
Encore!
Luke Hennig, Dan Milliken, Caroline Pettit, Jaci Pulice
EVERYONE DIES
Jeff Friedman, Virginia Lyon, David Shadburn
The Fantasy Life
Jillian Cardillo, Shawn Logue, John Roller, Nick Ufier
FartProv
Nicole Ayache, Devin Horne, Ellie Klein, Jessica Norman
Fun Wons
Ryan Alloway, Geoff Blizard, Marc Reber
Glitter Union
Cate Minichino, Rai Sen, Heather Marie Vitale, Katie Watkins
Grassy Knowles
David Brescia-Weiler, Jesse Chimes
HiJack
Rob Falk, Isabella Havas, Jack Ireland, Hilary Joel
Home School Dropouts
Zaid Jilani, Luke Lindstrom, Dana Lutenegger, Alex Wasdahl
Ill-fated Disco Technicians
JoJo Franzen, Richie Khanh, Henry Ring, Jared Smith
Impact Driver
Jennifer Koch, Caroline Michael Osborne, Samantha Watson
Innocent Innuendo
Natalia Antas, Phil Morton, Paul Pearlman, Brittany Perrotte
It's Just Two Cousins
Becca Daniels, Roderick Daniels, Justin Lamb
It's Not You, It's Me
Chris Hook, Jonathan Horsford, Courtney Kishbaugh, James Oddy
Jinglehorse
Andy Braden, Allyn Engle, James Jelin
Justin, from Canada
Ted Blanton, Bizzy Fain, Em Fiske, Ryan McClure
Long Time No Scene
Brandon Alston, Josh Jackson, Brant Miller, Christina Witwer
MANTICORE
Elizabeth Fulton, Ari Kaiser, Liz Sanders, Ben Taylor
Maple Sunday
Nicole Barrett, Rosie Grant, Will Roughan, Jason Walther
Marmalade!
Rachel Brody, Eric Holtzman, Andrew Lee, Katie Munn
Martinez
Neil Goodman Baron, Kristina Martinez, Nick Martinez, Olivia Martinez
McStankley
Jennifer McLaughlin, Tom Rowley, James Stankewicz
Mindful Shaking Tree
Abhishek Edla Ashok, Steve Hackley, Mike Hardman, Cherie Young
News Break
Kristin Brown, Matt Strote
No Re Mi
Lori Carpenter, Mikail Faalasli, Lisa Kays, David Richman
Nostalgic Narcissists
Alexander Mell-Taylor, Catherine Shelton, Annette Summers
Not Here to Make Friends
Kathleen dePorter, Laura Havel, Kaela Jeffers, David Stauffer
Oh No!
Michael Alvino, Justine Hipsky, Kaitlin Kemp, Lauren Woody
Overheard
Caroline Bovair, Rachel Greenberg, Elizabeth Mulkey, Seth Payne
Please Help!
Mikey Blunschi, Sam Bonar, Darnell Eaton
Pomegranate Punch
Stacey Axler, Emily Blumenfeld
The Prosecution
Annie Barry, Michael Burgos, Eva Lewis, Jamal Newman
Real Housewives of the Ages
Nick Bourke, Brooke Lillard, Goli Samimi, Kathy Baird Westfall
Reunited!
Andy Coldwell, John Haines, Kate Petersen, Josh Thomas
Runaway Llamas
Carlic Huynh, Julia Major, Steve Major, Dave Wittenberg
She's All Bat
Tracee Jordan, Laura Mandeville, Allison Theveny, Madeline Turrini
Shutdown Dads
Yotam Gingold, Arhan Gunel, Huzefa Rangwala
Side Hustle
Brianna Rooney, Meghan Sullivan, Alexandra Tucci
Slightly Out of the Ordinary
Dina Finkel, Abby Fu, Catherine Grothus, Ami Krasner
Someone Will Sneeze
Mary Ann Badavi, Tom Di Liberto, Kelsey Peters, Martin Steger
Sorry We Missed You
Nate Alston, Brendan Gaughan, Allison Shaw, Karyn Wilson
Strawberry Sweatshirts
Sarah Arkin, Nora Boedecker, Jennifer Hyman, Kris Shenenberger
supeRRnatural
Raney (Ren) John, Raymond Simeon
Sweet Sorrow
Geoff Corey, Lauren Cross, JJ Jackson, Adam Koussari-Amin
The Szechuan PepperDaddies
Cat Fullerton, Alex Kazanas, Kevin Mahoney, Elise Webb
Thanks for Playing
Leila Drici, Omar Parbhoo, Jesse Young
The Thompson Twin Twins
Lauren Boston, Patrick Fleury, Jonathan Murphy, Katie Ozog
Triangle Solo
Lauren Gabel, Becca Herries, Sarah Liebman
Unpopular Opinion
David Lapkoff, Chris Orvin, Renan Snowden
Viking High Five
Graceanna Enzinger, Chris Kanner, Ela Macander, Jon Zimmerman
VItal Lamps
Joe Iannuzzi, Sabrina Shahmir
Witch Hazel
Michelle Cohn, Amanda Fulton, Kira Sommer
Published:
February 1, 2018