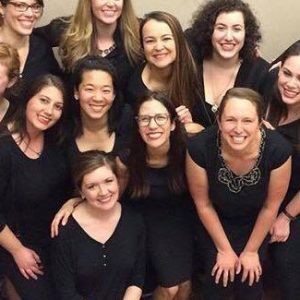 Cast announced for 2018 edition of Vagina! An Improvised Monologue Show
The Comeback Bracket adds a twist to FIST XII
Harold team auditions coming Jan. 20, 2018
WIT is proud to announce the new cast of Vagina! An Improvised Monologue Show—a reboot of last year's performance benefiting local nonprofit House of Ruth. Directed by Annie Barry and assistant directed by Kelsey Peters, the show will feature returning improvisers from last year's production as well as new improvisers.
Returning cast members for the show are: Emily Crovella, Marissa Goodstone, Justine Hipsky, Nina Hsu, Jess Lee, Dana Malone, Kelsey Peters, Macey Schiff, and Kaelan Sullivan.
New cast members for the show are: Kelsie Anderson, Leila Drici, Analia Gomez Vidal, Caroline Howe, Kara Kinsey, Lauren LaVare, Beth Lyons, Olivia Martinez, Jordana Mishory, Lori Pitts, Emi Ruff, and Christina Witwer.
All proceeds from the show, which will be performed on Monday, Feb. 12, will benefit House of Ruth. House of Ruth helps women, children, and families in greatest need and with very limited resources build safe, stable lives; heal from lifetimes of traumatic abuse; and achieve their highest potential.
Director Annie Barry will also do a pro bono workshop with House of Ruth residents in January.
Published:
December 20, 2017