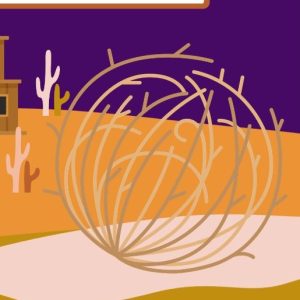 Audition: WIT seeks cast for upcoming Western "Tumbleweed!"
King Bee delivers drama at BINGE
WIT is hiring: Marketing and Development Manager
WIT's summer Directors Series show Tumbleweed! is looking for performers!
Auditions will take place March 25-26 at Studio Theatre (1501 14th St. NW) and March 29-30 at Latin American Youth Center (1419 Columbia Rd NW).
The deadline to sign up is Tuesday, March 14 at 11:59 PM.
SHOW STRUCTURE: Tumbleweed! is an improvised narrative western. Not a grim, violent western – but a most silly one that plays into the fun tropes and subverts the others. Improvisers will don costumes and props amidst a set specifically designed for this wild, campy show. While NOT musical improv, Tumbleweed! will be scored by live musicians. Shows within the run could potentially explore themes such as good versus evil, overcoming hardship, creating change, seizing opportunity, love, and adventure.
REHEARSALS: Weekly rehearsals will take place on Monday nights, tentatively beginning in late April and lasting through the end of June.
PERFORMANCES: Friday and Saturday performances occur from July 7-29 at Studio Theatre.
YOU: While Tumbleweed! takes place in a technological time past, we want you to bring who you are today to the show to create extraordinary characters for this updated western. We encourage improvisers of all identities, age, backgrounds, and experience levels to audition and bring your energy to this show. We're not focused on a specific historical time period or accuracy, we're focused on bringing our wonderful improv community into the western genre. We want to stress you don't need some "John Wayne" voice or look at the audition. We are interested in players who create their own memorable, distinct characters and make strong narrative choices within a team environment to create a playful, comedic improv show.
If you have any questions or are interested in auditioning for the show but are unavailable for any of the audition dates please contact Jared Smith (NYJJared@gmail.com).
Thank you so much for your interest!
The Tumbleweed! Creative Team
Jared Smith – Creator/Director
Macey Schiff – Director
Erick Acuña – Musical Director
Bill Nelson – Costume and Set Designer
Martin Steger – Technical Director