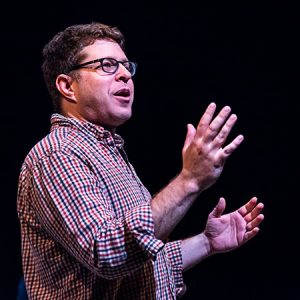 Adapt, innovate, improvise: WIT@Work improv trainings go online
WIT launches virtual Improv for All workshops
Spot the liar with WIT's online collaboration with Perfect Liars Club
As America grapples with working remotely to maintain social distance, everyone is improvising. When we're unable to do things the way we're used to, we're forced to work without a script.
Washington Improv Theater's WIT@Work program can help you adapt and innovate. While working remotely presents new challenges, it also presents new opportunities. Working remotely can be isolating, but we can help you bust out of your silo and devise new ways to collaborate. 
WIT@Work Director John Windmueller:
Holds a Ph.D. in conflict resolution

Has done improv-based trainings for organizations large and small (including Deloitte, Capital One, and a variety of government agencies)

Has extensive experience using Zoom and online tools to foster effective online communication and collaboration.
Customized WIT@Work trainings
We've adapted our popular trainings to the online space! Contact WIT@Work Director John Windmueller (john@witdc.org) to inquire further.
WIT@Work Applied Improv Training (Online Version)
We've adapted our time-tested trainings for the virtual world! These are the trainings we've done for clients like Deloitte, Capital One, KPMG, and a myriad of governmental agencies and nonprofits. Help build teams and improve communication, even when you're separated by location.
The Morale-Booster: Online Improv Games to Inspire Your Team
Just need to help your colleagues blow of some steam? Want to help inject some laughter into the day? We can help with that. This training is focused on maximizing fun and boosting morale.
Meeting facilitation: Professional Online Facilitation for Constructive & Creative Conversations 
Devising creative solutions is a challenge in any setting, and it's even even more difficult when you're trying to take on the task of online facilitator–keeping the meeting running on track while also managing multiple online tools for video conferencing, shared virtual whiteboards, etc. Why not bring in an expert to facilitate your meeting, so you can concentrate on connecting with your team and the substance of your work. Our WIT@Work Director holds a PhD in Conflict Resolution and has decades of experience as a professional facilitator, helping groups have constructive conversations (both online and off). We'll work with you to host an online meeting that meets your group's goals, time, and budget.