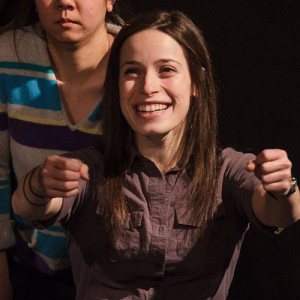 Yuliya Malamud
Washington Improv Theater
Abe Woycke
Steve Major
Yuliya first stumbled upon improv while being "sexiled" from her University of Maryland dorm room.
This blessing in disguise led her to The Bureau, a sketch/improv/standup troupe, with which she traveled and performed for over a year. She has since completed the WIT curriculum and gone on to perform with WIT Harold teams People Like Us and Knife Club. Yuliya has performed as part of the Del Close Marathon, District Improv Festival, Philadelphia Improv Festival, and the North Carolina Comedy Arts Festival. She has also taken some incredible workshops with UCB and Second City staff. Currently, Yuliya performs with WIT's company ensemble Nox!
When she's not on stage, Yuliya can usually be found climbing rocks, striking yoga poses, or inducing early-onset diabetes with her addiction to sweets. Statistically speaking, there's a 99.87% chance that on any given Friday night she will be eating Nutella with a spoon. No bread. No crackers.
Favorite historical figure
William Howard Taft
Hidden talent
Gollum impression