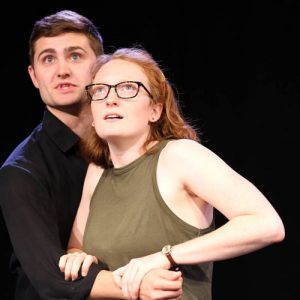 Virginia Lyon
Washington Improv Theater
Alan Prunier
Annie Kehrli
Virginia's entrance into this world was unscripted and she's been improvising ever since.*
Like many, Virginia leaned into comedy as a method for making friends, getting out of self-dug holes, and not having to pay for therapy. She started officially improvising in middle school with Destination Imagination, through high school with This is a Hold Up**, and into College with American University's premier improv troupe Mission: Improv-able***. Since graduating AU, Virginia has been at WIT taking classes and performing in shows.
Virginia is best known for her one woman Creed tribute band Human Play-dough, a group that can be seen performing in such exclusive venues as street corners, bars, and most often Jeff's Living Room.****
*Virginia's mother would like it to be noted that she was indeed planned, but Virginia hopes you will forgive the lie for the sake of comedy. 
**Virginia humbly requests that you don't try to research This is a Hold Up. It's better for everyone if we collectively agree to forget it ever existed.
***This you may research, only keeping in mind what we were all in college.
****Please do not notify Creed that Virginia is doing this. While she's sure they would be, above all, touched she is also sure they would take issue.
Personal motto
Virginia, you're an adult.
Favorite snack
Vegan sausage eaten out of the package like gogurt
Virginia believes in the power of wreckless support and unconditional love, and if you don't like that you can get the fudge out!
Virginia believes all good improv stems from relationships and real, human moments. It's the cornerstone for how she improvises and how she teaches. Also she's a ginger.
Student feedback
"Virginia was great! Her energy and positive attitude was contagious!"
"Virginia was a very encouraging and organized instructor. She made everything bite-sized for us beginners and gave the right amount of coaching at the right times."
"An amazing experience"