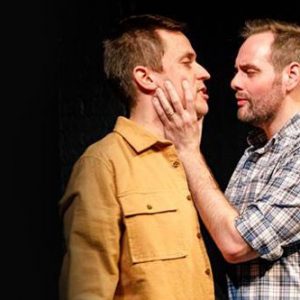 Ryan Brookshire
(he/him)
Washington Improv Theater
Erica Johnson
Lauren Emily
Ryan Brookshire is a DC-based songwriter, improviser, comedian, and teacher. Prior to making DC his home, Ryan lived in Tennessee, North Carolina, Austria, Egypt, and Germany.
Ryan has studied improv, sketch, and satire writing with instructors from WIT, UCB, Dojo Comedy, iO, The Second City, Magnet, Reductress, District Menu Comedy, District Improv Festival, and LIT. Ryan has studied musical improv with Travis Ploeger (Chicago City Limits), Amanda Murphy (Improvised Sondheim Project), and Tara and Rance (HERE: The Musical), and has studied narrative with Kristina Martinez (Goodison) and Jonathan Murphy (former WIT Ed. Director).
A member of WIT company ensemble iMusical, Ryan also plays with indie musical improv duo "An Evening with Georgia Tennessee" and serves as musical director (MD) for improvised talk show "Wake Up, Late — with Denny and Kate," for which he also composed the theme song. He's performed with WIT productions And, Scene!, Sequels from the Vault, The Fourth Estate, Citizens' Watch, and Interplay; WIT Harold teams After Pie, Tiovivo, Not Great with Kids, and BLOT; and various things called the following words: SMASH CUT, Direct 2 Video, Dayzee Chain (producer), SoundBite (producer), Fish Outta Water aka Gravid Watto (assistant producer), SPACE QUEEN, Bear Trap, The Hardy Boys, Neighbors, Cake Bagel, Big Boy Nap Time, Not Even Close, Bird's Eye, GIFt of Gab, Super Excited to Be Here, Love Language, and his first love, Helper Pony. Ryan has performed standup at Schtick and created characters for The Character Show, The Summer Camp Show (where he also performed in the house band), Comedy Potluck, Sketch Menagerie, and the Optophobia podcast.
Ryan teaches musical improv, comedic songwriting, and the core curriculum at WIT, leads musical improv jams, and coaches numerous indie teams, as well as WIT Harold team The Lineup.
Ryan studied 
Music Education (vocal/choral) and
 German and has worked both in the classroom and the education nonprofit sector. Ryan walks puppy dogs for dollars, writes theme songs for comedy shows, and Tweets one-liners for no one, apparently.
Photo by Kian McKeller
Childhood Nickname
Aren't you Michael's little brother?
Ryan loves improv because it combines childlike joy with adult intelligence.
He loves the classroom because it's a safe yet magical place of adventure, growth, and incomparable fun. Bring your unique voice, and come play in the moment with emotional honesty, surprising choices, and supportive teamwork!
Ryan is a member of WIT company ensemble iMusical, teaches musical improv and comedic songwriting, and coaches musical improv troupes Door #3 and All In, Pitches!, as well as teams that can't-or-won't sing, like WIT Harold team The Lineup. Ryan has degrees in Music Education (vocal/choral) and German and has worked both in the classroom and the education nonprofit sector.
Student feedback
"Ryan is a great teacher who always manages to find the sweet spot between thoughtful and fun."
"My favorite things about Ryan's coaching style are his clear comedic voice and his ability to help others find theirs."
"Ryan is a focused and compassionate teacher. He provided detailed, individualized feedback that really helped me progress as an improviser."
"I attended one of Ryan's workshops, and he was extremely encouraging as I took my first steps into the improv world. He is both friendly and supportive, and he provides a safe environment for everyone willing to go for a fun and unique experience!"
"Ryan was so good with Wyatt [a very shy dog Ryan walked]. He is more confident for having had Ryan as a walker!"
Photo by Kian McKeller
Personal Hero
Kill Your Darlings
Favorite Food
ALL the cheese