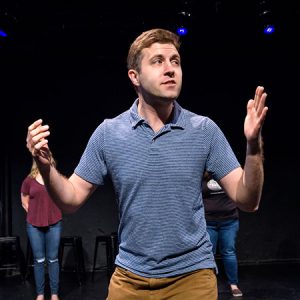 Jamie Lantinen
Washington Improv Theater
Jules Duffy
Jack Novak
Jamie grew up in Worcester, Mass., studied improv at the Brave New Workshop in Minneapolis, Minn., and has been performing regularly in DC since 2007.
After graduating the Washington Improv Theater training program, he became a member of WIT's inaugural Harold team Private Elevator. He joined former WIT ensemble JINX in 2010 before it became Commonwealth in 2011. He has had the opportunity to perform with many fantastic local troupes over the years including DMG, The Quest, Vicinity, and The Score, as well as in the 2012 WIT production of POTUS Among Us.
Jamie is a proud dad grasping at anything to remain hip. (BTdubs, that new Ariana Grande jam is sick y'all. Just sayin. Srrrsly.) He is grateful to his amazing wife and sons for supporting him and tolerating his weird voices at home.
Personal motto
Nobody really knows
Favorite snack
Chocolate chip anything