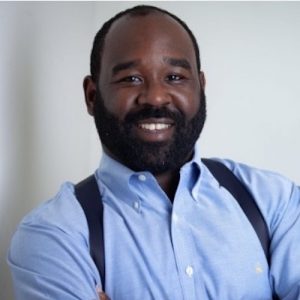 Clyde Thompson
(he/him)
Washington Improv Theater
Kenny Hahn
Andrea Fuller
Clyde is a native Washingtonian and started taking classes at WIT after a friend suggested he would enjoy it.
Clyde took his first improv workshop in 2017, then took his WIT level one class a year later through a grant from the National Endowment for the Arts at Anacostia Arts Center in Ward 8 completing the curriculum in March 2020. He has since performed in shows with various organizations in the DC area, including the Armed Services Arts Partnership and Laugh Index Theater. He has performed on the WIT stage with shows The Cookout, Hold Up, and Your Town. He can also be seen around DC with his indie team, Cute and Snobby.
Clyde is a professional busy body. Outside of regular job, he puts on community service events for under-served communities with The Mission Continues, writes a column in the East of the River Magazine (Darren Be Scheming), and is the founder of the East River Dog Park Group 501(C)(3) where he has been advocating for the first and only dog park East of the Anacostia River. He enjoys submitting himself for awards in his free time and hanging out with his Bull mastiff/Rottweiler dog, Barrow.
Fun Fact
I am the Godfather of Flag Day