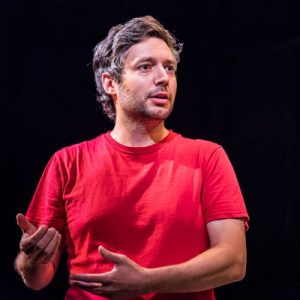 WIT casts 14 new Harold team performers
JJ Jackson: Lastly, I wear sparkly eyeliner
Harold team auditions coming Sept. 25
Washington Improv Theater added 14 new improvisers to its Harold teams following the most recent round of auditions.
Two new teams will replace Wallawoo and Thank You for Sharing—both of which have been retired. The first new team, to be coached by Taylor Edwards, will feature returning players J.J. Jackson, Elijah Sloan, Kristin Brown, Matt Grossman, Bryan Thren, Morgan Goetz, and Nina Hsu as well as new players Kaelan Sullivan and Melissa Gedney. The second new team, to be coached by Madeline's John Carroll, will feature new players Sarah Houghton, Annie Kehrli, Virginia Lyon, Ryan McCloskey, Patrick Murray, Alan Prunier, Matt Roland, Renan Snowden, and Ari Glatman Zaretsky.
LIZARD GIRL and Diviglio will both pick up new members. Adam Levine will join LIZARD GIRL while Diviglio will add Erin Murray and Ariela Kaiser.
Not Great With Kids and Richie will remain as cast, with Madeline's Jonathan Murphy replacing outgoing Richie coach Rich Nyman.
Published:
September 28, 2016