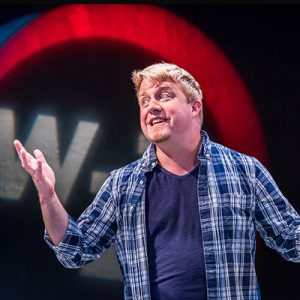 WIT Artistic/Executive Director Mark Chalfant: Help us meet our match by Sept. 14
Get ready for fall: WIT releases more merchandise options
Icebreakers for Online Meetings
There's a pre-show ritual among improv performers—even students doing their first showcase—that I deeply love. We tap each of our teammates' backs and say "I've got your back." It's a genuine gesture of solidarity and trust that never fails to inspire.
I have to admit, the impact of COVID has been tough on WIT—from the cancellation of FIST and Improvapalooza to our annual fundraiser and all of our in-person classes. Bringing people together is literally at the core of everything WIT does, so stopping that cold has been jarring.
As you would expect of improvisers, we are adapting. But creating online versions of our classes, shows, corporate training, and community outreach programs takes time, as does growing the audiences for those new programs. As we go through this adaptation, can we count on you to "Get WIT's Back?"
If WIT has positively impacted your life, can you make a donation to help us right now? We are aiming to raise $20,000 from now through Sept. 14, and our board of directors will be matching the first $10,000 raised. UPDATE: We have met our initial $20K goal! Thank you! WIT's Board has issued another challenge of $5,000, so please help us blow this campaign up to $30K!
Harold team performer Lauren Jordan recently shared a video of her attempts to learn how to rollerskate and tied it to how WIT has her back. She wrote:
I know us improvisers make it look easy, but this video is a physical representation of my anxiety every time I get ready to perform improv on stage (or Zoom). Thanks to the WIT I've not only had the opportunity to practice but also to perform. So even when I am feeling nervous and anxious, I know I have a whole community that 'got my back'
After you've made a donation, we would love for you to share why you've got WIT's back.  Post a photo or video on Facebook or Instagram with the hashtag #GotYourBackWIT.
We're still working every day to connect and creatively inspire people across DC (and now the world). More than 300 people from 31 states and 7 countries have taken our Improv or All workshops, hundreds have taken our online classes, and we're continuing to present innovative shows like POTUS Among Us and Hold Up.
Thank you for helping us as we brave uncertainty together. All of us on WIT's staff believe improv offers powerful and beautiful lessons. We're doing our very best to bring those ideas online, and we cannot wait till the day when we can assemble again in community. That first tap on the back is going to feel amazing!
Sincerely,
Mark
Published:
September 8, 2020