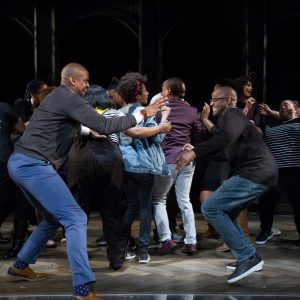 Join WIT for in-person shows, jams July 13-18
T-Shirts with new iMusical logo available for purchase
Get ready for the stage with Voice and Physicality workshops in August
WIT returns for a week of in-person shows and jams July 13-18 — featuring performances by company ensembles, Harold teams, faculty members, and a special in-person episode of Hold Up. 
Following last month's successful Welcome Back to WIT weekends, WIT is continuing to expand our in-person programming to provide our community the opportunity to meet and play in-person at both jams and shows. These performances are also available to general audiences!
All events will be in the black box at Source (1835 14th St. NW). 
This special weekend features five ticketed public-facing performances featuring the return of ensembles iMusical, Nox!, Madeline, The Hypothesis and others, as well as a number of mash-up casts of our performer and teacher community. Tickets are $20, but we are also offering pay what you can tickets at $5 or $10. 
There is also the first in-person Hold Up event on Thursday, July 15, at 7:30 p.m., which is followed by a free Harold Night show featuring members of our Harold program and alums on Thursday at 9:30 p.m.
We will also be featuring a number of jams:
*A musical improv jam on Tuesday, July 13 at 7 p.m. led by iMusical's Ryan Brookshire. No musical improv experience required. Sign up here. 
*A student jam on Saturday, July 17 at 4 p.m. A student is anyone who has ever taken a class or workshop (either virtually or in person). Sign up here. 
*An all-play jam on Sunday, July 18 at 4 p.m. Everyone is invited! Sign up here. 
All jams are pay what you can.
There will also be a paid in-person workshop to help you return to performing in person. Veteran teacher Jordana Mishory will teach a workshop on Sunday, July 18 at 12:30 p.m. The workshop will focus on playing more and thinking less in scenes by locking into your character deal.
An important note: Vaccines are required. You must be fully vaccinated against COVID-19 to attend any of these events, and proof of vaccination is required when you first enter Source. Masks will not be required (though you are welcome to wear one if you prefer). 
Participants are encouraged to reserve a ticket in advance. Walk-ups are of course welcomed, but if there are too many people in the space you may be turned away.