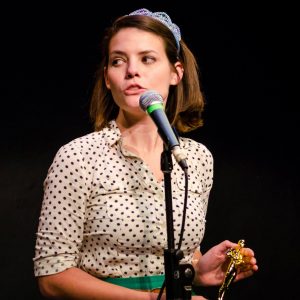 Em Fiske
Washington Improv Theater
Lauren Cross
Deanna Price
Em loves improv and loves teaching, so this is a win-win in her book.
Em always enjoyed comedy and was interested in improv, but it wasn't until she moved to DC that she dove in and never looked back. After reading Tina Fey and Amy Poehler's autobiographies, she decided it was finally time to give it a try. Doing improv has benefited her in her personal and professional life and she would highly encourage anyone to try a class.
Student Feedback
"Em was a delight to be around. She was just as supportive and always showed interest in our thoughts on improv. I love her laugh – she laughs long and loud, which is a godsend in any improv class."
"Em was great – she took copious notes that were helpful in providing feedback on scenes, and her very audible laughs "HA!" when we were on point helped provide a bit of a sense of an audience, which gives important energy and sense for what's working (or not)."
All time favorite movie:
The Bird Cage
Hidden talent:
Inability to make a choice when ordering food
Hailing from Richmond, Virginia, Washington Improv Theater has easily become Em's favorite part of living in DC.
After finishing her level one class, Em found out about volunteering and was eager to sign up. Through volunteering in the light booth, she has truly enjoyed getting to know everyone she's met as she has continued to become involved with WIT. Possibly, though, her favorite part is being sure she has a clear view of the shows from the light booth, as her less-than-tall stature always leads her to worry someone taller will sit in front of her at a show.
When Em isn't volunteering she enjoys grocery shopping, brunching, her parents' Netflix account, and self-diagnosis via WebMD. She has never owned a car.
Favorite Childhood Field Trip
Any non-colonial destination