Dream Spooners + The October Issue + Mona and Shara Do Improv
May 25, 2017
What will happen at the WIT Road Show? Your guess is as good as ours!
Beyond the Pale + Big Boy Nap Time + Beverly Crusher + Nox!
Jam Jam + Cake Bagel + Madeline
Details
Date:
Thursday May 25, 2017
Price:
$12 in advance; $15 at the door
WIT's company ensembles and special guests take over DC Arts Center in Adams Morgan with our thrilling, unpredictable performances! Each show's line-up is unique and every performance is one-of-a-kind.
Guest Acts
Dream Spooners 
Dream Spooners starts and ends in your bedroom, while sliding in topsy-turvy misadventures that peer into the depths of your unknown desires.
Cast: Sarah Houghton, Erin Murray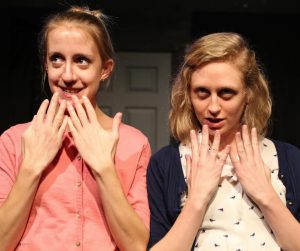 Join Mona Thompson and Shara Tonn for this 35-minute narrative longform story, all completely improvised. They'll start with a suggestion for a title from you, the audience, then move on from there. It might be a rollicking western, a modern stage-play, a Shakespearean farce, or something totally different. You'll have to come to find out!
About Mona and Shara: 
Mona and Shara have been improvising for a combined 16 years. They met in college performing with the Stanford Improvisors and are now both ensemble members at San Francisco's Un-Scripted Theater Company. They have done shows up-and-down the West Coast with Minerva and The Human Knot.
In 2016, Mona and Shara formed the duo
Mona and Shara Do Improv
. They enjoy exploring a variety of short and longform styles. This summer, you'll find them on a 2-month tour across the country, performing and teaching in (at least) 20 different cities. Follow their trip on Twitter and Instagram @MSDImprov.
Image courtesy of Mona and Shara.

 
General information:
Line-ups vary nightly. Please verify the performing acts on your individual curtain times.
All online sales shut off at 6 PM the night of the show.
For all shows, unclaimed tickets may be resold at curtain time. Late arrivals will be seated at WIT's discretion.
Washington Improv Theater strives to ensure its shows are accessible to all audiences at our home stage at Source. However, our guest venue DC Arts Center is not accessible to wheelchair users and may be challenging to patrons with limited mobility. If you have accessibility questions, please email us at wit@witdc.org.
DCAC Members: Please call DCAC for the member code at (202) 462-7833.