Lena Dunham + Hellcat + AMA: Charlotte Clymer
Ask Me Anything: Changemakers - December 9, 2022
The world may seem chaotic right now, but these activists, artists, and community leaders are helping make the world better.
LIZARD GIRL + Madeline + AMA: Kathy Baird
schtick, schtick...BOOM! + Madeline + AMA: Rahama Wright
Details
Date:
Friday December 9, 2022
Ask Me Anything: Changemakers features interviews with DMV residents who are making the world a better place. These interviews serve as inspiration for a performance by WIT's improvisers.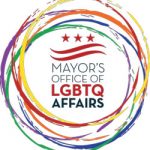 This show is sponsored by the DC Mayor's Office of LGBTQ Affairs. To learn more about our grant, which includes a series of free Improv for All workshops aimed at the LGBTQ+ community, click here.
About Charlotte Clymer
Charlotte Clymer is a writer, transgender activist, communications consultant, and military Veteran. She writes "Charlotte's Web Thoughts", a newsletter about politics and culture. In 2021, she signed an exclusive one-year deal with Substack to host her blog. She was most recently a political fellow at the Georgetown Institute of Politics and Public Service and the Director of Communications & Strategy at Catholics for Choice. She serves on the D.C. Mayor's Commission for Persons with Disabilities, the Boards of Directors for the Center for Law and Military Policy and Running Start and the Military and Veterans Advisory Council for Modern Military Families of America.
COVID safety
Masks are required for all patrons in performance spaces. WIT encourages the use of medical-grade masks (like surgical masks). To learn more about Studio Theatre's COVID safety policy, visit their health and safety page.
Accessibility information
To learn more about Studio Theatre's accessibility, including wheelchair seating and assisted listening devices visit their accessibility page. If you have accessibility questions, please contact wit@witdc.org.
Photo by Jeff Salmore