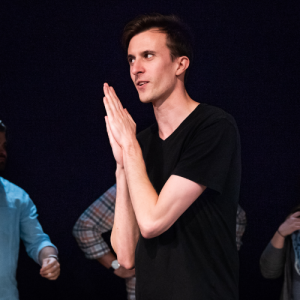 Matt Strote
Washington Improv Theater
Martin Steger
Kaitlin Kemp
Matt Strote is a DMV native and an extroverted introvert who started performing as a child, trying to recreate Folgers coffee commercials for his family and friends. He would probably really enjoy talking to you and asking too many clarifying questions.
Matt has trained at WIT, District Menu Comedy, Dojo Comedy, The Unified Scene Theatre and the University of Maryland. He loves any and all opportunities to perform, learn, bond, and riff with friends old or new. He is a member of the indie teams Bottom Shelf, Four Get Me Nots, is the co-director of (y)Our Town, and is a member of the ensemble of Tumbleweed!
His exhausting enthusiasm and love of taking things too far pushed him to become a theatre educator. When not onstage he can usually be found fluctuating between being sarcastic, doing bits and taking make-believe with his students, niece, nephew, and friends a little too far.
Hidden talent
He's really good at connect four.