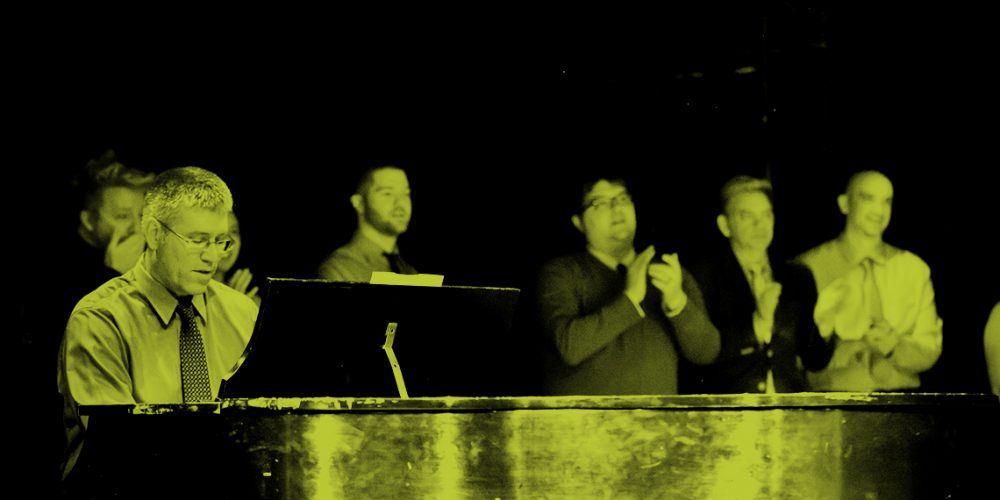 Scenic Song Formats with Travis Ploeger
You have a handle on improvising songs, but… how do you use those songs to make interesting musical theater?
Characters Unleashed: Expand Your Character Range with Dave Johnson
Foundations of Musical Improv with Beth Lyons & Michael O'Connor
In this eight-week course, you'll learn various techniques and formats to integrate improvised songs into scene work, increasing and elevating the emotional impact and theatricality of both.
You'll learn common scenic song formats employed by WIT's long-running ensemble, iMusical, including the Monkey in the Middle, the Refried Beans, and the Trio (with a capital "T").
The class will culminate with a showcase.
ABOUT TRAVIS
Travis Charles Ploeger is the creator/director of the popular and critically-acclaimed WIT production of iMusical: The Improvised Musical.
He has also written and performed music for other WIT projects including several of their 48-Hour Film Festival entries. A working director/performer in NYC for more than a decade, he was the music director and pianist for Chicago City Limits (both resident and national touring companies) from 1998 until 2006. He was also a founding member of "I Eat Pandas," with Eliza Skinner and Glennis (McMurray) McCarthy, and is a veteran of the stages of the Upright Citizens Brigade Theater, People's Improv Theater and Magnet Theater.
He is a graduate of the Hartt School of Music, a season ticket owner of the Minnesota Vikings, a passionate Washington Nationals fan… and has either accompanied or music directed in approximately 2,000 performances of improvised musicals… and counting. He also has yet to turn down the chance to visit a tiki bar. Follow him on Twitter here.
Prerequisite:
Level 4: Ensemble AND Foundations of Musical Improv, or completion of Musical Improv Level 3: Ensemble, or with permission of the Education Manager. Please reach out to the Education Manager at classes@witdc.org with any questions. You should be comfortable singing in public.