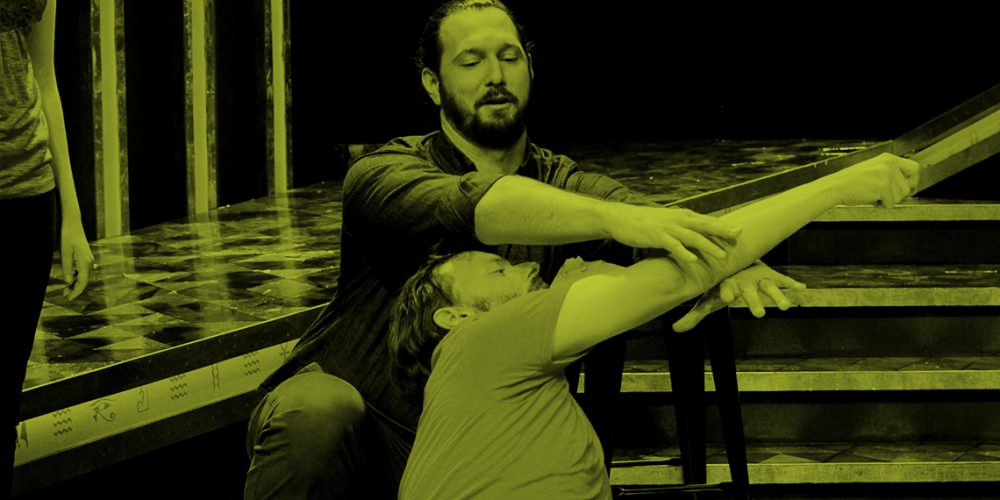 Physicality Lab with Josh Rachford
Get your brain out of the way and let your body lead. If you are specific with your physicality you will respond faster on stage and stop wondering, "What do I say next?"
Short Form for Long Form Improvisers with John Windmueller
Level 2: Scene Dynamics
Get out of your head and into your body! Be more present, expressive, and engaging by using your whole body as your instrument.
We'll explore movement, rhythm, and tension, using exercises from theatrical clowning and gibberish scenes. We'll also use physicality to create characters to make initiations easier. We will take inspiration from how animals move–a dragon is very different from an octopus–to inform our characters.
ABOUT JOSH
Josh Rachford's passion for improv took him to New York, Los Angeles, and Amsterdam. Now it's brought him to WIT.
Josh became involved in improv in college at UVA, where he was a founding member of UVA's Amuse-Bouche along with SNL's Sasheer Zamata. He completed the full improv program at the Upright Citizen's Brigade in New York. After moving to LA, he continued advanced study at UCB there. Other study includes Second City, the Nerdist (now the Ruby), and with teachers including Matt Besser, Ian Roberts, Matt Walsh, Joe Bill, Bobby Moynihan, Chris Gethard, Neil Casey and more.
While in LA, Josh joined the Story Pirates (storypirates.org) and directed shows in schools and on tours. He's acted in HBO's The Newsroom, MTV's European Music Awards, and in commercials, as well as videos for FunnyOrDie and CollegeHumor. He has appeared in San Francisco SketchFest, the Del Close Marathon, on NPR's Marketplace, Harrah's Casino in Las Vegas, and is in a video at a Dutch amusement park.
In 2016 Josh joined Boom Chicago in Amsterdam. There he performed five nights a week and led improv-based workshops for companies like Google and McKinsey & Co.
Alongside his interest in comedy Josh is interested in business and entrepreneurship, organizations and society, human nature, and technology. He enjoys fishing and camping, cooking, playing piano, games, and spending time with his wonderful wife.
Prerequisite:
Level 3: Character, or permission from the Education Director