Level 3: Character
Develop fully realized characters of all shapes and sizes. Discover how attitude, physicality and objectives can provide a filter for your characters to interact with the world.
Level 2: Foundations of Scenework
Level 4: Ensemble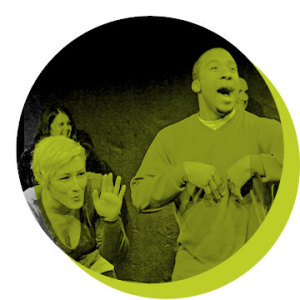 In improv, there's nothing preventing you from changing age, gender or personality from one scene to the next. Learn how to embody a diverse array of characters that are like and unlike yourself. Add depth and color to your worlds by applying traditional theater techniques and putting them into your scenework.
Set your alarms, the upcoming session of Level 3 goes on sale August 14th at Noon!
Photo by Andrew Bossi
Prerequisite:
Level 2: Foundations of Scenework or permission from the Education Director.