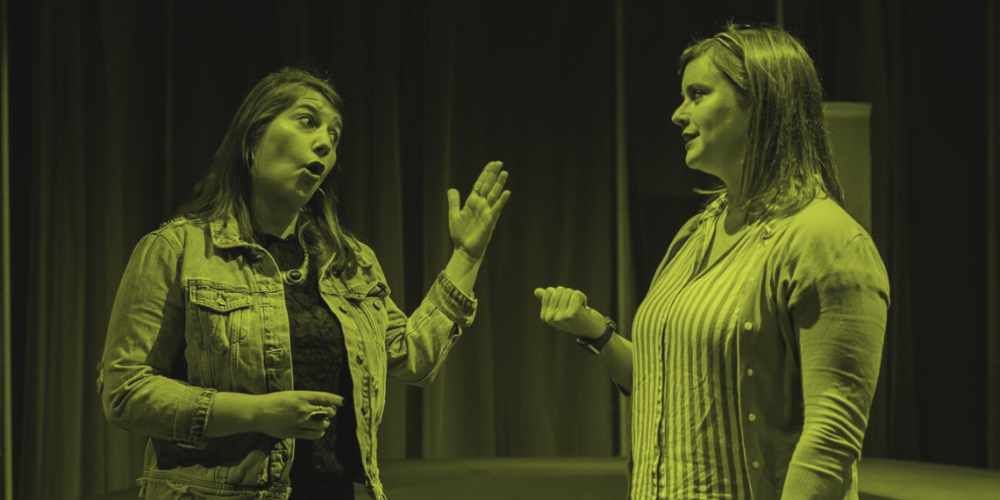 It's Not Funny! with Justine Hipsky
An Introduction to dramatic improv.
Accents for Improv: American Upper Midwest with Sarah Nichols and Sim Rivers
Level 1: Foundations of Improv
Earning an audience's laughter is magical, but their tears? Hoo, that's the stuff. If you are curious about dramatic improvisation, this is the perfect chance to explore naturalism and vulnerability in a safe, joyful space.
This workshop will help us to become comfortable with silence, playing it real, and getting to the emotional heart of a scene in a thoughtful, honest way. "It's not funny," but bringing your humanity to the stage will only make your comedy stronger too — we promise!
ABOUT JUSTINE
Justine began her improv journey in 2014 when she showed up for her first Washington Improv Theater class with sweaty palms and a stomach tied in very intricate knots. In the years since, she spent three wonderful years in WIT's Harold program, performed in the cast of WIT's improvised slasher flick, Die! Die! Die!, And Scene!, as well as improvised dramas, Citizens' Watch, The Cabin Affair, and The Heist. She also served as Assistant Director for The Heist and WIT's You Are Afraid of the Dark, a spooky homage to 90s favorite, Are You Afraid of the Dark?
Justine most recently used both her comedic and dramatic improv training to co-write, co-direct, and co-star in Motherload, which took home Capital Fringe's 2022 Best Comedy award. In addition to writing and performing, she takes great joy in teaching and coaching and is always excited to create a warm environment while fostering a space of hard work and growth. She has taught every level at WIT and coached in the Harold program as well as several indie teams.
Justine can be found regularly performing with WIT company ensemble, Hellcat. Her palms are still sweaty.
Prerequisite:
Level 2: Scene Dynamics, or permission from the Education Manager